Rap Snacks Features Platinum Selling Female Rapper Trina
Flavors "Honey Jalapeno" & "Honey Dew" Cheese Puffs Summer 2017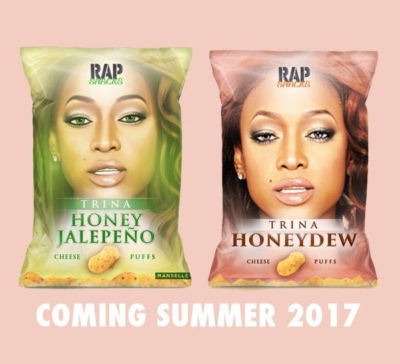 Press Release (ePRNews.com) - ATLANTA - Jun 05, 2017 - The innovative potato chip brand Rap Snacks has had a huge success pairing hip hop culture with the top snack in US homes. Early this year Rap Snacks saw the Migos inspired flavor Sour Cream with a Dab of Ranch go viral after being released to social media. Eventually an official jingle was released going viral and had over 5 million shared views. Rap Snacks also struck gold with flavors from southern rapper Lil Boosie, Romeo, Fetty Wap, and New York Rapper Fabulous.
Rap Snacks is back to the drawing board with the hottest collaboration for Summer 2017 with Florida native rapper Trina better known as the "Diamond Princess." Trina is one of the first female rapper in a long time to be featured by the Rap Snacks Brand. The collaboration makes total sense with Trina being a platinum selling artist with an extensive fan base.
About Trina
Miami native Katrina Taylor better known as Trina debuted in 1998 on Slip-N-Slide with label mate Trick Daddy and quickly became a household name in Hip-Hop. With female rappers from the South not making much noise back then, Trina earned national attention. Adding a Southern twist to the explicit style that rappers like Lil' Kim and Foxy Brown had blown up off; Trina easily became the queen of the South.
In March of 2000, Trina's debut album was released. The album entered the Billboard Chart at No. 10. Trina had now become a household name and got a taste of success with her album selling more than 700,000 copies in the US. Affectionately known across the entire global market as the "Diamond Princess", she represents riches and royalty.
Trina has always been about empowering young females, so it was a no brainer that starting a non-profit organization to give back to the community was the next step for her career. The Diamond Doll Foundation was created in 2006 to fill the void that a lot of young girls have in their life. Trina feels that many young girls grow up without supporting parents and sometimes make life changing decisions that may not have been made if there was a proper support system in place.
For Trina, business is a priority. Aside from her music, she has other business ventures and is intent on building an empire to grow her brand. "I'm trying to make myself more of a business person this time around," she says speaking more in-depth about her, Diamond Princess & new Diamond Doll fragrance, Pink Diamond Couture Clothing, and her future acting career.
Rap Snacks is releasing two flavors inspired by Trina "Honey Jalapeño" and Honey Dew Cheese Puffs. The flavors are perfect for her a sweet with a little spicy. Rap Snacks took a chance and released to flavors and Trina is the perfect spokesperson to feature proving that girls run the world. Trina's new album will be released this June 2017 and you can find her two flavors in stores summer 2017.
Rap Snacks encourages customers to share their Rap Snack experiences by using the hashtag #RAPSNACKSIGOTCHIPS and gives them an opportunity to hear unreleased music, win concert tickets and merchandise from the artists. Take a look at the first part of creating the packaging for Trina's branded snacks.
https://www.instagram.com/p/BUmtsjsg5qF/?taken-by=trinaro…
Learn more at www.RapSnacks.net. Find Rap Snacks Online: IG @OfficialRapSnacks, Twitter @RapSnacksNow & Facebook @OfficialRapSnacks
Find Trina online at http://oh-trina.com/. For more information on Rap Snacks contact the RSG Agency at info@therisingstargroup.com.
Source :
Rap Snacks