Local Business Owners Surpass $1 Billion in Private Lender Loans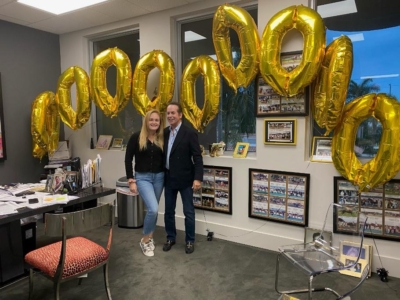 Press Release (ePRNews.com) - AVENTURA, Fla. - Feb 01, 2021 - The Hard Money Company recently surpassed $1 billion in loans specializing in non-owner-occupied properties. The owners of the Hard Money Company understand the value of creating exceptional working relationships with borrowers, and the $1 billion dollar lending milestone proves it. The Hard Money Company is a private lender who ensures every client has a top-notch experience and maintains the highest level of corporate credit ratings as well as only works with the most experienced and trusted legal counsel to protect their customers throughout all transactions. With loans from $50,000 to $5 million, the Hard Money Company makes it quicker and easier to lend on non-occupied real estate.
"Our record speaks for itself," says Gus Goldsmith, one of the owner/partners. "You don't get to this point if you are not working for your clients. I think they appreciate everything we do, and I am proud to help those business owners that are looking to open or expand. Giving people a second chance when the bank says no is what we thrive our business model on. We are helping our customers to not only invest in themselves, but in their communities. When our customers succeed, we succeed. It's really that simple." Goldsmith continues on by saying "that adhering to a few hard rules with our lending practices we create trust with our clients. This leads to long-term success."
While the company has maintained a focus in the real estate sector, over the years they have expanded to accommodate the varying needs of today's borrowers, all while preserving their excellent reputation in the lending community. "We have grown to offer fast and flexible funding for the fix and flip market," Goldsmith said. "In this business, you have to adapt to the needs of these business owners and operations – they are the ones with their feet on the ground and are the first to notice changes in the industry. We are proud to have expanded into new territories and look forward to remaining the best choice in lending."
The Hard Money Company began in Kentucky and expanded to the D.C. metro area and Florida. Service areas include Kentucky, Indiana, Ohio, Tennessee, Virginia, D.C, Maryland, and Florida, with more expansions on the horizon. Owners Goldsmith and Bouchard also generously give back to their local communities by donating funds to local shelters, sponsoring playgrounds, foodbanks, and preschools.
If you would like more information on this topic, please contact Gus at (305) 507-7452 or gus@goldsmithequity.com
Source :
Hard Money Company