Locksmith Bristol Offers Security Advice After A Surge In Burglaries Post Lockdown
A burglary in the UK happens every 106 secs, meaning 817 houses are burgled each day. Gary Goodland from G Lock Locksmiths has given nine security tips that, if followed, will drastically reduce your chances of being robbed.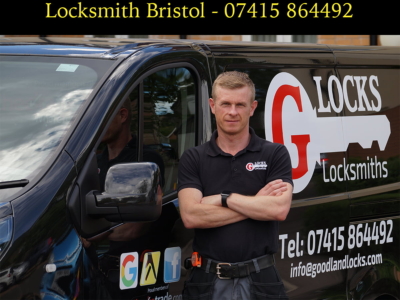 Press Release (ePRNews.com) - Bristol, Somerset - Mar 24, 2022 - Since the easing of the UK COVID restrictions, burglaries have begun to rise.
Burglaries declined by over 30%; however, the UK is now seeing a dramatic upturn in property theft.
Between April – July 2021, there were 68,013 burglaries. In 2021, a burglary took place every 106 secs, meaning 817 houses in the United Kingdom were burgled each day.
Gary Goodland from https://goodlandlocks.com in Bristol has highlighted some straightforward security tips to keep residents safe in their properties.
Keep your doors and windows locked. 1 out of 7 burglaries, the burglar enters the property through an unlocked door.
Install British Standard Locks on all external doors. 59% of burglars gain entry through the front door. You must have the British Kite Mark with three stars if you have a uPVC door. This lock will protect you from the most common methods criminals use to break your lock. Your mortice and night latch for wooden doors must have the British Kite Mark, with the BS3621 stamp dated 2007.
uPVC and wooden windows must be lockable, either via the handle or with an additional deadbolt. Very important for ground floor windows and windows above a flat roof.
Keep your keys away from the front door or letterbox. Criminals are excellent at phishing for keys via the letterbox. Please, stop leaving your keys on a hook or table near the front door.
Keep your ladders and tools in a shed or garage. Ladders left at the side of a house or building are a perfect aid for a criminal, so stop making it easy for him.
Stop leaving a spare key under a plant pot. Criminals know where to look. Plant pots and doormats are too obvious of a place to hide a spare key.
Add additional protection to your garage. Sadly, garages are far too easy for burglars to gain access. Consider installing a garage defender of garage deadbolts. Both options are cheap, and anyone with DIY skills can install them.
Who has a spare key to your house? If you have recently taken ownership of a property, you can not determine who has a copy of your keys. Dog walk, the cleaner you will never know. So change your locks and carefully control who has access to your property.
Consider installing an alarm. An alarm with motion sensors will trigger if someone starts to tamper with your doors or windows. Activating the alarm before a criminal can enter the property is more likely to stop them.
Having no security measures makes you five times more likely to be robbed.
Gary Goodlands 9 security tips will drastically reduce your chances of suffering the emotional consequences of being robbed.
For any further information or security advice, you can contact Gary directly.
Either on 01172 565991 or 07708 374604
Suite 21
Kingswood House
South Road
Bristol
BS15 8JF