Mango Animate Unveils Its Whiteboard Animation Video Maker to Global Users
Mango Animate's whiteboard animation video maker, Mango Whiteboard Animation Maker, has rich and easy-to-use features that allow users of all levels to create engaging whiteboard animation videos.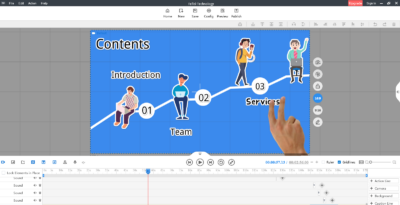 Press Release (ePRNews.com) - Hong Kong, China - May 06, 2023 - Mango Whiteboard Animation Maker is also well known as Mango WM, which offers a wide range of tools for creating professional whiteboard animation videos. With the ability to create animations with a hand-drawn look, this whiteboard animation video maker is suitable for businesses and educators looking to create engaging visual content.
"Our whiteboard animation video maker is designed to be easy to use, even for those without animation experience," said Winston Zhang, CEO of Mango Animate. "So it is suitable for animation video amateurs, for example, teachers, to easily create a captivating video for their teaching. With its comprehensive set of tools and easy-to-use interface, Mango WM has already gained a reputation among global users."
Its library of pre-designed templates makes animation video creation much easier. These templates are useful for those looking to create whiteboard animation videos quickly and efficiently using a whiteboard animation video maker. Just choose one template and modify some content, a professional whiteboard animation video can be done in minutes; there's no need to create a video from scratch and set animation effects one by one. Users can customize their graphics, audio clips, and more content based on the given template to make their videos extraordinary and unique.
"The whiteboard animation video maker boasts an animation timeline which allows users to easily control the timing and sequencing of their animations, ensuring a smooth and engaging video project," said Winston.
The Mango WM whiteboard animation video maker also comes with a hand-drawing feature, which is widely used by global users. It lets users choose hands of different sizes and gestures, pens, or other elements as explicit drawing tools. This gives whiteboard animation videos an extra personalized touch.
Users can preview the whole project to see whether there's something to be revised before publishing it. The whiteboard animation video maker allows users to publish their project as a video and a GIF, and full HD video is supported.
For more information about the whiteboard animation video maker, please visit Mango Animate.
About Mango Animate
Mango Animate is a leading provider of animation software, offering a range of products designed to make animation production accessible to everyone. It aims to help people from all walks of life create engaging animation videos with ease.
Source :
Mango Animate Software Co., Ltd.