Markowicz Fine Art Announces Solo Exhibition From Artist Carole A. Feuerman at Art Miami, Booth AM338​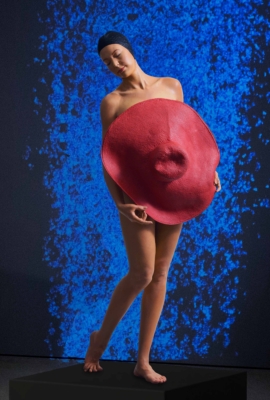 Press Release (ePRNews.com) - MIAMI - Nov 13, 2018 - ​​​​Markowicz Fine Art will present a solo installation of hyperrealist sculptor Carole A. Feuerman at Art Miami, 2018. "Girl with the Red Hat" is her latest sculpture. It will be presented in booth AM338. It highlights Feuerman's eye for detail and portrayal of lifelike art that she is known for worldwide. The red hat, made of resin, looks particularly real and can come out of her hands revealing a meticulously painted resin bathing suit. If you love art, you've surely come across the term trompe l'oeil, defined simply by explaining that the words are French for "fool the eye." In "Girl with the Red Hat," we see an exotic sculpture because it suggests to the viewer that the girl is nude, and yet, she is wearing a bathing suit. It has immense visual impact, powerful coloring and boldness. Placed in the center of the booth at Art Miami, it is highlighted by Michelangelo Bastiani's "Monumental Marmore Wall."
Carole A. Feuerman was one of the first American artists to turn to the hyper-realistic depiction of the human body in the 1970s. Feuerman's prolific career spans over four decades and four continents. Through her sculptures, she creates visual manifestations of the stories she wants to tell: of strength, survival, balance. She seeks to connect with her viewers on an intuitive level, evoking emotion and engagement. It is often the viewer's participation, the object/viewer relationship, that completes her stories. She has produced a rich body of work in the studio and in the public realm. By combining conventional sculptural materials of steel, bronze and resin, with more unconventional media like water, sound and video, she creates hybrid works of intricate energy and psychology.
Markowicz Fine Art, Miami Design District, 110 NE 40th Street, Miami, Fl.
Tel + 1 786 615 8158.
To receive a complimentary day pass email info@markowiczfineart.com
Markowicz Fine Art will present a solo installation of hyperrealist sculptor, Carole A. Feuerman at Art Miami, 2018. 'Girl with the Red Hat' is her latest sculpture at the 2018 Art Miami.
In its 29th edition, Art Miami maintains a preeminent position in America's modern and contemporary art fair market and is globally recognized as a primary destination for the acquisition of the most important works from the 20th and 21st centuries.
Art Miami Hours:
FIRST VIEW VIP Preview:  Tuesday, December 4, 2018  4:30pm – 5:30pm
Wednesday, November 30 – Saturday, December 3: 11 am to 8 pm
Sunday, December 4: 11 am to 6 pm
Art Miami
The Art Miami Pavilion
One Miami Herald Plaza @ NE 14th Street
Downtown Miami
On Biscayne Bay between the Venetian & Macarthur Causeways
For more information contact
Evolutionary Media Group | Jennifer Gross
323-658-8700
Jennifer@emgpr.com
Source :
Carole Feuerman

Business Info :
Carole Feuerman Studio
28 West 27th Street (488)
New York, NY 10001