Meridian Art Experience in Delray Beach's Pineapple Grove to Feature Artist Amélie Grooscors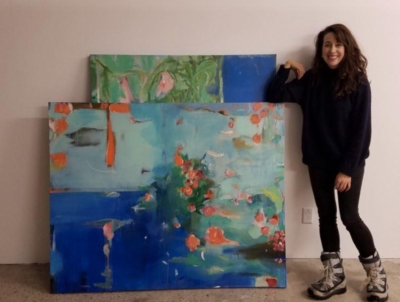 Press Release (ePRNews.com) - DELRAY BEACH, Fla. - Feb 16, 2017 - The Meridian Art Experience in
Delray Beach's Pineapple Grove to
Feature Artist Amélie Grooscors in March
Opening Night at 'the mAe' coincides with
the First Friday Art Walk on March 3 from 6 to 9 pm
(Delray Beach, FL – February 15, 2017) James Blumenfeld and Susan Romaine, the principals behind The Meridian Art Experience today announced that abstract artist Amélie Grooscors will be featured at the mAe throughout the month of March.
Located in Delray Beach's bustling Pineapple Grove Arts District, the new gallery is aimed at making the middle art market approachable, affordable and experiential.
"At the mAe, we believe there is a vibrant, but under-served community of art enthusiasts who are interested in fine art that isn't homogenized," says Blumenfeld. "They are seeking to learn more and are hungry for experiential ways to do so. In fact, they are eager to engage in the fine art of living with art."
Amélie Grooscors
According to the artist, "The idea of landscape fascinates me for its endless compromise with modernity and how it inevitably becomes informed by architecture, hence human intervention. The bulk of my work resides in the study of residual spaces left at the juncture where indigenous cultures, virgin territories or unclaimed spaces meet with industrialism. By channeling these conceptions by memory onto pieces through an abstract lens, I play on their formal aspects and their materiality and, through an abstract painter's struggles, try to convey the intangible feel and the subtle characteristics of such universes."
"One could say that architecture and abstraction find a common ground in my art through ambiguous sites similar to dreamscapes, resembling unsolved maps to some unknown territories. I am intrigued by appearances of what is left behind and how these places and things evolve," she adds.
About the mAe:
The Meridian Art Experience is located at 170 NE 2nd Avenue in Delray Beach's popular Pineapple Grove Arts District, and is open noon to 8 pm Wednesday, noon to 10 pm Thursday, Friday & Saturday; noon to 5 pm on Sunday; and by appointment on Monday and Tuesday.
The mAe also offers a full range of professional artistic services including:
· the mAe Gallery: Space for contemporary and emerging artists across diverse media.
· the mAe Group: How to buy, manage, collect and consign art.
· the mAe Art Services: Framing, Installation and in-home consultation
· the mAe Space: Event space rental for parties and events.
For more information about the mAe, please call 407-921-6931 or visit www.maefineart.com.
Available for Interview:
James Blumenfeld
The Meridian Art Experience
407-921-6931
jim@maefineart.com
Media Contact:
Gary Schweikhart
PR-BS, Inc.
561.756.4298
gary@pr-bs.net
Source :
PR-BS Inc.