Mia Noriega Searight as Marcellina – Returns to the Stage in "Marriage of Figaro"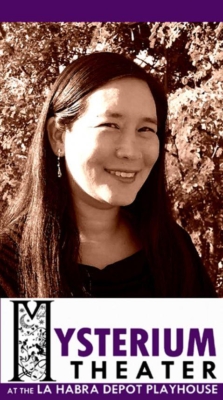 Press Release (ePRNews.com) - LA HABRA, Calif. - Apr 10, 2017 - Mia Noriega Searight has recently made her way back onto the opera stage.  After earning her Bachelor and Master of Music degrees at Cal State Fullerton and doing graduate work in Early Music at the Longy School of Music, she shifted gears and went into the field of education, teaching music and multiple subjects to students of all ages.  Although she never stopped performing with ensembles such as Pacific Chorale and the Jouyssance Early Music Ensemble, it is only within the past year that Mia has returned to the world of opera, singing with the Repertory Opera Company in Pomona and Riverside Lyric Opera.
Plan for a night at the opera in La Habra from May 5 to May 28, Fridays and Saturdays at 8pm and Sundays at 5pm.
Regarded as one of the greatest operas ever written, Mozart's The Marriage of Figaro (Le nozze di Figaro) is a screwball comedy complete with disguises, surprises, and compromises. Figaro, the wily barber of Seville and part-time matchmaker, has finally fallen in love. But, like everything else in his life, it's complicated. On the eve of Figaro's marriage to Susanna, his master, Count Almaviva, sets his wandering eye on the lovely bride-to-be. Servant and master go head to head, and even the Countess Rosina gets in on the action when she learns of her husband's desires. But is she embroiled in a dangerous liaison of her own? From the opening notes to the final curtain, Mozart's score delivers a tangled love story with great farce and satire.
Audiences can experience Searight in the role of Marcellina beginning May 5th at Mysterium Theater.  Also composing the outstanding cast of characters are: Count Almaviva played by Eric Hindley. Countess Almaviva played by Amanda Meyers,  Figaro played by Stephen Pu, Susanna played by Vanessa Doss, Barbarina played by Danielle Lugo, Basilio played by Garrett Ching, Cherubino played by Kaitlyn Wolf, Antonio played by Malcolm Rickard, Don Curzio played by Stan Morrow III, Bartolo played by Matt Koutroulis,  Cupid played by Elizabeth Henderson, The Cook played Gloria Henderson, Maid 1 played by Karina Hunt, and Maid 2 played by Evelynn Moody.
Bringing this cast to the stage are Marla Ladd – Producing Artistic Director, Lisa Garcia – Production Manager, Ray Buffer – Show Director, H H Hanson – Music Director, Jacob Curington – Stage Manager, Edgar Andrew Torrens – Set Designer, Harpsichord recordings by Curtis Heard.
Mysterium Theater is located at 311 Euclid St, La Habra, CA 90631.
Tickets for "Figaro" are available at http://mysteriumtheater.com or by calling (562) 562-697-3311.
Source :
Mysterium Theater

Business Info :
Mysterium Theater
La Habra Depot Playhouse 311 S. Euclid Street
Long Beach, California - 90802 United States
Phone: 7143966110
Website:
http://mysteriumtheater.com