Motorsport Engineering Recruitment Team, VHR, race out to Historic Motorsport Show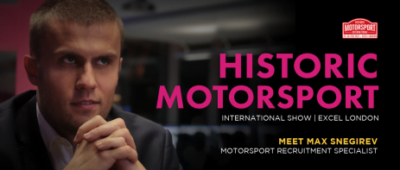 Press Release (ePRNews.com) - CENTRAL LONDON, England - Feb 23, 2017 - Taking place at Excel in London from 23rd-26th February 2017, the Historic Motorsport International hosts more than 60 motor racing exhibitors. The show is a must attend event for engineering and preparation experts, drivers, owners, clubs and suppliers. Reflecting the UK's leading role in the world of historic motorsport and rallying, Historic Motorsport International is a dynamic exhibition supporting and celebrating everything about historic motorsport. Celebrating motorsport engineering the show will be launched with the inaugural Historic Motorsport Conference, hosted by broadcaster and journalist Henry Hope-Frost. The conference will focus on a variety of topics including the use of technology, driving standards and sponsorship.
Recruiters with Motorsport Experience
VHR's Formula 1 & Motorsport recruitment consultants Howard Wiley and Max Snegirev will be attending Historic Motorsport International.
Racing since 2007, Max Snegirev holds his MSA racing license and has competed in various single-seater championships at national and international. Combined with a BSc degree in Business Studies and an MSc in International Business, Max has a natural affinity for all things engineering. His technical knowledge across automotive, motorsport engineering and manufacturing sectors ensure VHR find the best match when recruiting candidates for F1 and motorsport clients.
Commenting on the Historic Motorsport Show, Max said 'we're excited to be attending the Historic Motorsport International Show, across from VHR's UK headquarters, London's Excel Centre is the perfect location for the popular event. Alongside seeing some of the most iconic cars in motor racing, attending the conference and meeting the many motorsport clubs, it promises to be a fantastic event'.
Business Development Team, Howard Wiley has a wealth of permanent and contract recruitment experience across engineering and motorsport industries. Notable clients include one of the UK's providers of design, build, and maintain or repair competition race engines that include some of the iconic cars from the last 40 years of motorsport.
'Working with many of the manufacturers, builders and design suppliers throughout the year, it's great to visit this new show, meet the teams and see the cars' added Howard.
For further information about the event or to speak with a Motorsport Technical Recruiter of the VHR team at Historic Motorsport International, please contact VHR's motorsport recruitment specialists: Howard.Wiley@v-hr.com Max.Snegirev@v-hr.com
Contact VHR for more information on Job Matching, technical recruitment and amazing career opportunities.
web: www.v-hr.com
call: +44 (0) 20 7500 7980
email: pressoffice@v-hr.com
About VHR:
VHR (Virtual Human Resources Group Ltd) is a specialist technical recruitment company operating in the four key sectors of Aerospace & Aviation, F1 & Automotive, Engineering & Defence and Marine Services. Headquartered in London and with offices in Manchester, Prague, and Abu Dhabi. VHR supports its clients by providing master vendor, managed and on-demand contract and permanent recruitment services globally.
Source :
VHR Global Recruitment

Business Info :
VHR (Virtual Human Resources)
Luna House, 37-39 Bermondsey Wall West
Bermondsey, London, Greater - SE16 4RN England
Phone: +44 (0) 207 500 7980
Website:
http://www.v-hr.com