Museum of Dog Kicks Off National Instagram Tour in Dallas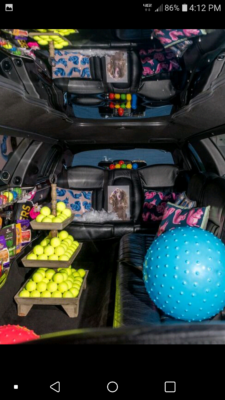 Press Release (ePRNews.com) - DALLAS - Oct 30, 2018 - "The famed vintage dog limousines and the mobile dog museum school bus are hitting the road to spread the love of dogs through an Instagram Pop-Up experience," says York, Museum of Dog founder. Thousands of dogs and their humans will be able to create their personalized images amidst some of the museum's favorite treasures.
The limo bars will be well stocked with Wellness Pet Food treats (@wellnesspetfood), one of the tour sponsors. The accompanying school bus will house the current exhibit of Brian Nash (@brian_nash_art) along with a collection of sculptures, paintings, photographs and some of the museum's antique dog collars around one of the museum sofas and the colorful squirrel pillows. The first stop on tour will be at the Barking Hound Village Dallas location on Cedar Springs Road. Although six cities have been named for tour stops, York says the schedule allows other cities to be added depending on demand. The museum's website, Facebook page, and Instagram page have all been experiencing hundreds of requests for additional stops. One $20 ticket covers four "bodies" (two humans plus two dogs, or one human plus three dogs, etc.). More details and tickets are available at www.museumofdog.com.
The famed vintage dog limousines and the mobile dog museum school bus are hitting the road to spread the love of dogs through an Instagram Pop Up experience. Thousands of dogs and their humans will be able to create their own personalized images amidst some of the museum's favorite treasures.

David York

Founder, Museum of Dog
Museum of Dog opened in The Berkshires in April 2017 attracting an exceptional amount of national media attention. York says, "The Pop-Up museum will allow dog lovers, everywhere, to experience a sampling of the museum and have special dog photos and selfies to share on Instagram."
Media Contact:
david@davidyork.com
info@museumofdog.com
Source :
Museum of Dog

Business Info :
Museum of Dog
55 Union Street
North Adams, MA 01247