National Geographic Announces New Cast Member: JOEY LUTHMAN for THE LONG ROAD HOME, GLOBAL SERIES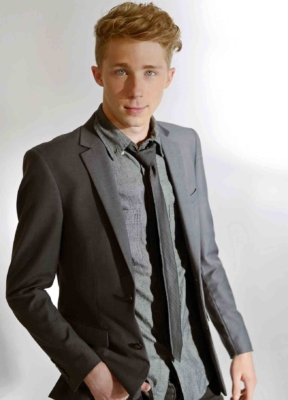 Press Release (ePRNews.com) - LOS ANGELES - Apr 26, 2017 - JOEY LUTHMAN will take on the role of SPC JONATHAN RIDDELL in National Geographic's THE LONG ROAD HOME.
He joins MICHAEL KELLY, SARAH WAYNE CALLIES, NOEL FISHER, JASON RITTER and JEREMY SISTO.
"I'm really honored to be working with such an awesome cast and crew and National Geographic." Joey
From the National Geographic Press Release of Mar 23, 2017 2:30 PM:
"Over eight episodes, The Long Road Home will relive a heroic fight for survival during the Iraq War, when the 1st Cavalry Division from Fort Hood was ferociously ambushed on April 4, 2004, in Sadr City, Baghdad — a day that came to be known in military annals as "Black Sunday." The event series will cut between the action on the ground in Iraq and that of the home front back in Texas, where wives and families await news for 48 hellish hours, expecting the worst. The incident, which took place 11 months after President George W. Bush's famous "Mission Accomplished" speech, changed the American military's view of Iraq from a peacekeeping mission to a fight against domestic insurgents. The Long Road Home is an extraordinary story of war, dramatizing not just the heroism and sacrifice on the front lines but the family bonds and courage on the homefront," said Carolyn G. Bernstein, executive vice president and head of global scripted development and production, National Geographic. "We are thrilled to have such a strong, talented cast on board to portray the real-life heroes -the courageous soldiers and their equally courageous families -who sacrificed so much for our country."
ABOUT JOEY LUTHMAN: With over 60 Scripted TV and Movie Productions to his name,Joey is well known as a gifted actor, performer and musician. His riveting performance as "Elliot Gallagher" on NBC's Chicago Med aired last week and recently he captivated CBS audiences as the traumatized teen, "Reese Holland", on Hawaii Five-O. He is equally engaging for his comedic antics as a series regular, "Beckett", on the popular Series: Astrid Clover. Joey just wrapped shooting on the heartfelt family drama: The Last Champion, opposite Cole Hauser and Hallie Todd, and it is scheduled to be in theaters later this year. His many film credits include Opening Night with Anthony Rapp, Monsters with Ione Skye, 10.0 Earthquake with Henry Ian Cusick and Chasty Ballesteros, Bad Teacher with Cameron Diaz, Forget Me Not with Bella Thorne and Carly Schroeder and many more. One has only to turn on the TV, Netflix, Crackle, Amazon, Hulu or Youtube to be impressed by his prolific accomplishments. He has recurring roles on Showtime's Weeds as "Rad Ferris"; SONY Crackle's Chosen as "King Orr"; ABC's Private Practice as "Evan 'Porter' Dawson", The Goldbergs as " Roger McFadden", General Hospital as " Young Luke Spencer"; Disney's Kickin' It as "Emmitt", A.N.T. Farm as "Teen Zoltan"; Nickelodeon's Instant Mom as "Stuart" , iCarly as "Dave of Fleck & Dave", How To Rock as Craig Kronberg; and the list of guest star roles goes on and on. Recipient of Five Young Artists Awards and Eleven Nominations, Joey was only four when he booked his first professional role at The Dayton (Ohio) Playhouse (where Rob Lowe also began) in a Production of "Nuncrackers", singing "I'm a Little Teapot". Check out more about Joey on IMDB and follow his social media sites.
Follow on https://twitter.com/joeyluthman
Follow on www.instagram.com/joeyluthman
Source :
Red Walk Talent PR

Business Info :
Red Walk Talent PR Services
Los Angeles, California - 90011 United States
Phone: 6198384078
Website:
http://www.redwalktalent.com