New Ninja Warrior Gym in Frederick, Maryland!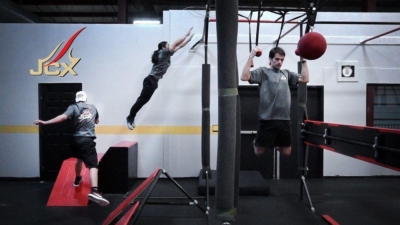 Press Release (ePRNews.com) - FREDERICK, Md. - Jun 18, 2017 - Unleash Your Inner Ninja!
You've seen the show, you've wondered if you have what it takes, or just wanted to try the obstacles because it looks fun…well now is your chance! Come try out the Ninja Warrior course in Frederick, Maryland.
Jump Climb Extreme has just opened its first "Obstacle Challenge Course & Gym" inside the Frederick Indoor Sports Center. It offers alternative style fitness challenges that is designed for kids and adults.
Experience this challenging obstacle course designed with signature elements of gymnastics, martial arts, rock climbing, rope courses, crossfit, and more. Jump Climb Extreme is equipped with obstacles like: Salmon Ladder, Ninja Steps, Cannonball Alley, Plank Traverse, Ring Toss, Warped Wall, Spider Climb and more!
It's for kids and adults, whether you just bring the kids to help them get healthier by working out through fun obstacles, or by working out as a whole family. Kids don't have to jump over furniture or climb up walls anymore! And for adults, it will test mental and physical limits for a total body workout of endurance, speed and upper & lower body strengths. They can also compete with friends or train for Obstacle Course Races or Ninja Warrior.
Each element is strategically placed at a certain height with thick landing mats for safety. Some obstacles will be difficult for beginners, but that's okay! Everyone has to start somewhere, and there are many options to build up your skills and to help you overcome the more difficult ones. It is also recommended not to take on more than you can handle, or ready for. Safety is important at JCX, and we stress that with everyone that comes in the door.
Ninja Warrior birthday parties are also an option at JCX, groups of 10 or more. The obstacle course is reserved for your group for 1 hour, with activity options of open use, ninja warrior competition, or team competitions (like a relay race). There are basic packages, and all-inclusive, so whatever fits your budget. And there is nothing else like it in the area!
JCX also offers obstacle specific classes. They are 30 minute sessions to go over the best or various ways to complete that obstacle. There is an introductory class that is mandatory for all first timers, just $10, so come try it out with little commitment.
Visit Jump Climb Extreme today!
A signed waiver is required for every participant. If under 18, the waiver must be signed by parents/legal guardian.
Visit us at: www.jumpclimbextreme.com
Like us on Facebook: www.facebook.com/jcxmd
Source :
Jump Climb Extreme LLC