NewFilmmakers Los Angeles (NFMLA) Film Festival – Asian Cinema – May 13th, 2017
NewFilmmakers Los Angeles (NFMLA) celebrates Asian Pacific American Heritage Month.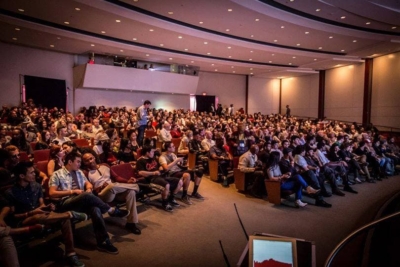 Press Release (ePRNews.com) - HOLLYWOOD, Calif. - May 03, 2017 - NewFilmmakers Los Angeles is proud to present another month of incredible indie film talent. Join us on Saturday, May 13th as we start the night with another installment of our InFocus series, InFocus: Asian Filmmakers, Stories, and People. With this month's series, NFMLA opens the floor to give better representation to Asian talent both on and off the screen in celebration of Asian Pacific American Heritage Month.
The second program celebrates the US premiere of the Japanese feature film "Where Florence Sleeps." From the brother duo of Katsuto and Kenji Kobayashi, experience a dramatic tale of sabotage, kidnapping and ransom.
The evening film program closes with the LA premiere of "Looking for Jackalope," industry veteran, Karl Shefelman's feature length directorial debut.
Shorts Program #1 – InFocus: Asian filmmakers and their stories
The Fat Panda – directed by Ante Cheng and Reeyaz Habib
Fat Panda is a buddy comedy about two roommates struggling to to make their name in the movie industry. Prior to this film, Cheng worked with Twilight's Justin Chon on another short film, Gook. Cheng cites Heat, Drive, and Night Crawler as films that have heavily influenced him. Unlike Cheng, Habib pursued a degree in finance at the University of Toronto, before going to USC for his Masters of Fine Arts in Film Production.
Cloud Kumo – directed by Yvonne Ng
Ng is an international multi-award winning photographer and filmmaker. Her debut short film, Cloud Kumo, won a Student Academy Award, 59th Cine Golden Eagle Award, City Vision's Technical Achievement Award 2016 and a grant from New York Women In Film & Television. Ng strives to improve the state of human rights through social activism. Her passion for human rights is channeled through her film, Cloud Kumo, which seeks to illuminate the dangers of nuclear proliferation and its effect on younger generations.
何日花再來 (Where have the flowers gone?) – directed by Sin-hong Chan
A Hong Kong native, Chan graduated from The Chinese University of Hong Kong with a bachelor's in Fine Arts. Chan has worked in various industry positions such as programming, editing, animating, and designing. Partnering with animation program HKDEA, Chan worked to create his film, Where have the flowers gone?. The film follows the story of a young pig as he questions his reality in a bustling city.
Sugar – directed by Kimi Lee
Derived from the 2015 BlueCat winning feature length screenplay, SUGAR offers a provocative glimpse into the concealed underworld of "Sugar Baby/Sugar Daddy" relationships that are taking college campuses by storm. Devoid of emotional intimacy, how do two strangers––diverging vastly in both age and life experience––go about fabricating a makeshift romance? SUGAR depicts the first night of a young woman's depraved summer as a "girlfriend-for-hire." Lee is a graduate of Stanford University who received her B.A. in Film and Media Studies and Minored in Creative Writing.
Exchange – directed by YuanYuan Zhang
Zhang graduated from the Shanghai Theatre Academy and received a bachelor's degree in Film and TV Directing. Following her graduation, Zhang worked on several films including Final Journey, Alice Coming Back, and Mojin: The Lost Legend. Exchange, is based on a Korean comic and delves into questions of human temptation. As a film with no dialogue, Exchange has challenged Zhang both as a director and producer.
Holdout – directed by Brian L. Tan
While a student at UCLA, Tan established the Film and Photography Society in order to gain more hands on experience. After graduating, Tan worked on big studio features such as Tron: Legacy and X-Men First Class. Holdout is a period piece loosely based off the true story of a Japanese WWII Lieutenant Hiroo Onoda who got left behind on an island in South East Asia after the war.
Feature Film Program #1
Where Florence Sleeps – directed by Katsuto Kobayashi & Kenji Kobayashi
Katsuto and Kenji, brothers and partners in production, planned this film as the first part of a two-film project: Where Florence Sleeps takes part in Japan, while the sequel, The Tear of Florence (working title), will be set in the U.S. Where Florence Sleeps tells the story of various characters surrounding a fictional diamond called the "Tear of Florence," which disappeared 70 years ago in the chaos of World War II. The Japanese part of the saga is a corporate thriller involving a kidnapping in an attempt to dig up the mysterious diamond. Katsuto established his own TV production company in 1989 and has since directed over 200 works. Prior to Where Florence Sleeps, the brothers co-directed The Neighbor, which was produced and distributed in Japan.
Feature Film Program #2
Looking for the Jackalope – directed by Karl Shefelman
A veteran of the movie industry, Shefelman has worked for over twenty years as a storyboard artist and concept illustrator. A native of Austin, Texas Shefelman moved to NYC in order to pursue a masters in Film Production at NYU. Along with his creative work, Shefelman has directed and produced numerous plays, commercials, and music videos. His previous films, Bill's Seat, and, Elysian Fields, have also won numerous awards including the former's Best Short Film at the St. Louis International Film Festival and the latter's sale to BBC-2. Looking for the Jackalope is Shefelman's directorial feature debut.
Located in Downtown LA, South Park Center is the Presenting Venue Sponsor of the NewFilmmakers LA Film Festival. Founded in 2007, NFMLA has screened 1750+ films from over 72 countries. The organization provides a forum where filmmakers can be recognized with title supporters Sony Pictures Entertainment, DreamWorks, SAG-AFTRA and FilmLA.
For information or to reserve tickets to the NewFilmmakers LA May 13th, 2017 Film Festival, please visit https://goo.gl/Hq6Vjq
Source :
NewFilmmakers Los Angeles (NFMLA)