Now Available on iTunes: The Opposite of a Fairy Tale
The Film Lab's production arm, AAFL TV, has announced their 2016 film, "The Opposite of a Fairy Tale," written by Jennifer Betit Yen, is now available on iTunes. The film revolves around the struggle of a woman imprisoned by her own family.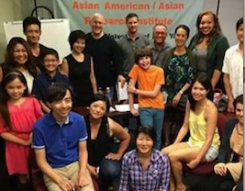 Press Release (ePRNews.com) - MANHATTAN, N.Y. - Jun 30, 2017 - Today, the Film Lab / AAFL TV movie The Opposite of a Fairy Tale, by Jennifer Betit Yen,becomes available on iTunes (https://itunes.apple.com/us/movie/the-opposite-of-a-fairy-tale/id1236999030). The psychological drama centers on a woman who is imprisoned by her family as well-meaning bystanders unintentionally assist in her demise. Produced in 2016, the film has screened in New York and California, including a sold out premiere at the Museum of Chinese in America, the Asian American International Film Festival, the SAG-AFTRA Foundation Shorts Showcase, the Palm Springs Desert Film Society, HBO, and more. More information on the film's official website at www.TheOppositeOfAFairyTale.com
Betit Yen received funding for the film from the Asian Women's Giving Circle, through the Ms Foundation for Women. "Drawing on personal experience, my aim was to use the entertainment value of film to draw light to the epidemic of elder abuse affecting at least 1 in 10 seniors today," she explained. "Through narrative storytelling, we can create awareness and empathy among people of all ages and backgrounds. I am so grateful to all the people who so generously helped make this film a reality."
The Opposite of a Fairy Tale was made possible with the support of the Asian Women's Giving Circle, Fay Ann Lee, WomanKind, The Warwick Hotel, Fushimi NYC, Yoko Iwaki, Larry Lee, The Ms Foundation, AAARI-CUNY, Antony Wong, Erin Quill, Ron Bruno at Morningside Retirement, Henry Street Settlement, MOCA, and Aaron Woolfolk, with additional financial support from the City of New York Cultural Development Fund and the Manhattan Chamber of Commerce.
The Film Lab's production arm, AAFL TV, produces film, television and online media entertainment content designed to challenge racial and gender stereotypes and promote positive, constructive effectuation of social change. Betit Yen has just received an additional grant to produce a television pilot about sexism. She says she anticipates the pilot will film in the late fall of 2017 and will be a dramedy.
About the Asian American Film Lab
The Film Lab is a non-profit 501(c)(3) headquartered in New York City that has been dedicated to the promotion and support of gender and ethnic diversity in media since 1998. The Film Lab accomplishes that goal in three ways: (1) education; (2) outreach and support; and (3) production.
Education – The Film Lab runs monthly events that are open to the public ranging from screenings to seminars to Q&As, all designed to increase awareness of the current state of diversity in media and to provide audiences with the tools and motivation to effectuate positive social change through entertainment.
Outreach-Support – The Film Lab runs various programs ranging from the famous 72 Hour Shootout filmmaking competition to filmmaking how-to workshops to networking parties, all of which work to connect people of color, particularly Asian Americans, and mainstream media executives and to create mentorship and distribution opportunities for people creating diverse works. The 72 Hour Shootout filmmaking competition is arguably the Film Lab's most important annual event; bringing together A-list judges and established and aspiring filmmakers across the globe. People of all colors, backgrounds, religions, and cultures with a common goal: to battle inequality through creativity; to promote gender and ethnic diversity through entertainment; and to challenge stereotypical mainstream constructions of race, gender and sexuality.
Production – The Film Lab produces media with positive and prolific perceptions of women and people of color and films that effectuate positive social change through narrative storytelling. The TV series, Film Lab Presents currently airs on CrossingsTV (Time Warner Cable & Xfinity). We also have an online channel, AAFL TV, to which viewers can subscribe to for free at youtube.com/asamfilmlab.
The Film Lab management team consists of Jennifer Betit Yen (President and Board Member, founder of AAFL TV Production Arm), Chloe Jenkins (Fundraising), Daryl King and Jodi Lin (Connections), Renee Lasher (Industry Spotlight and 72 Hour Shootout), Cici Chu (72 Hour Shootout), Jodi Lin (staff editor), and Ray Lanuza (Sound Design, AAFL TV), Lil Rhee (Communications Administration Aid), along with a dedicated Board, interns and event volunteers. Board members include James Kyson and Aaron Woolfolk, among others. For more information, please visit the Film Lab's website at film-lab.org.
Source :
Asian American Film Lab, Inc.