Orchard City RV Offers the Most Current ATV's and RV's models for rent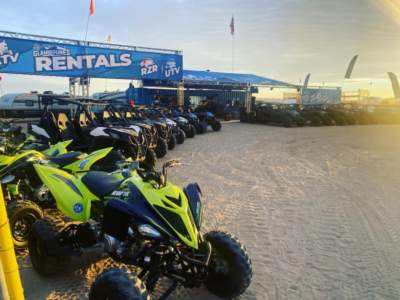 Press Release (ePRNews.com) - Brawley, CA (USA) - May 20, 2021 - Orchard City RV is a company located on-site at the imperial Glamis Sand Dunes recreation area with an extensive high-end rental inventory. All their units for rent are well maintained to ensure you have a lot of fun. They have well-trained professionals who are always available to assist with special instructions to ensure you get the best possible rental experience. The company is committed to providing everything a customer needs to make their rental experience exceptional. Their rental units are conveniently located on-site for pickup from their location right on vendor row.
The company spokesperson said, "Taking a road trip with friends can be an incredible experience. It is an excellent way to reconnect with old friends and get to know new ones. It is also an awesome opportunity to create amazing memories that will last for years to come. To fully enjoy the road trip with friends, we highly recommend renting an RV. This will allow you and your crew to be comfortable no matter where you end up and gives them the chance to choose a space with plenty of beds for every individual. Moreover, an RV provides a kitchen for making meals and a nice clean bathroom even in the middle of the wilderness. To rent an RV, contact us."
Get the best RV rental Glamis from Orchard City RV. They have the perfect RVs for having an unforgettable family vacation, a truly epic road trip, or simply exploring the nation. With many years of experience in the RV rental industry, they know exactly what it takes to help clients find the rental that's right for them. Their units are current models and feature modern stylings to ensure that clients have the best possible RV experience. Furthermore, they are always clean and comfortable. All their RVs are privately owned and equipped with personal touches that clients won't find on just any old factory-made RV. The company offers delivery and pickup services of the RVs to most locations in the California Bay Area and beyond.
The company spokesperson added, "At Orchard City RV, we are among the largest RV rental companies, with thousands of satisfied customers and a broad inventory. When clients rent an RV with us, adventure follows them wherever they go. Their accommodations are settled, and their transportation is covered. It's their vacation home on wheels. All they need are their travel companions, an adventurous spirit, and their chosen destination. We make vacation planning easy, affordable, and convenient."
Orchard City RV prides itself on providing excellent customer service and quality ATVs to their clients. They carry ATVs which are always in excellent mechanical and cosmetic condition. The company has the best prices for renting in Brawley. They have ATVs for rent for the whole family. So, whether one enjoys trail riding or ripping through the dunes, the company has what they need. The company consistently adds new units and refreshes its inventory to offer clients the most current ATV models with the latest features. So, for the best Glamis ATV rentals Services, clients should consider contacting the company.
About Orchard City RV
Orchard City RV is a company known for renting out RVs, ATVs, RZR & SXS, UTVs, JETSKIs, and SLINGSHOTs that are in excellent condition. For top sand dunes California ATV, clients can contact the company.
Contact Details

Orchard City RV
Glamis Sand Dunes
Vendor Row
5775 E HWY 78 Brawley,
CA 92227
Telephone: (760)-5RENTAL OR (760) 573-6825
Website: http://glamisrent.com/
Source :
Orchard City RV