Photo Contest Gives Diners Chance to Win Dinner at Perry's Steakhouse & Grille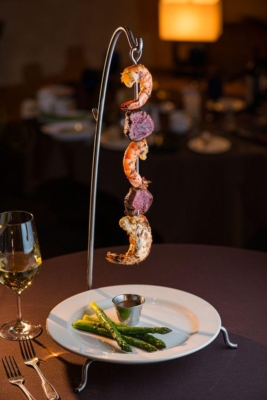 Press Release (ePRNews.com) - OAK BROOK, Ill. - Mar 08, 2017 - Hooked on Perry's Steakhouse & Grille seafood? Snap a picture of your favorite dish, share it on Facebook, Instagram or Twitter with #PicsAtPerrys and you could win dinner for two (valued at $150). The catchy offer ends at the end of the month, so be sure to show how much you reel-ly love Perry's seafood before March 31. Winners will be announced April 3 at 5 p.m. central standard time.
Perry's Steakhouse & Grille has made a name for itself with its world-class steaks and chops. Since its beginning as a humble butcher's shop, Perry's has been serving the finest cuts of hand-selected, USDA-aged Prime steaks in recipes perfected since 1979.
Perry's has also spent those years creating and perfecting its many seafood dishes, too. Guests will have a lot of photo opportunities. Perry's menu starters celebrate both the delicious simplicity of seafood and the elevated taste when married with other flavors. Try the Shrimp Cocktail ($16.95) or Blue Point Oysters on the Half Shell (Market Price) for that fresh from the sea taste. For something slightly more indulgent, the Asian Ahi Tuna Tartare ($17.95), Crab Cakes ($17.95), Cherry pepper Calamari ($14.95), Lobster Bisque ($11.95), Bacon Wrapped Scallops ($18.95) and Tempura Fried Lobster Tail (4 oz. for $27.95 or 8 oz. for $47.95) are guaranteed to satisfy. For the ultimate starter, impress all the senses with Perry's incredible Iced Seafood Tower featuring the Lobster Cocktail, Shrimp Cocktail, Blue Crab Cocktail, and Blue Point Oysters on the Half Shell (Small for $39.95 or Large for $69.95).
The main dishes mirror the same fresh and innovative tastiness of the appetizers. Sample Perry's unique take on classic dishes like the Grilled Salmon with grilled asparagus and beurre fondue ($34.95), Sushi-Grade Sesame Crusted Ahi-Tuna with red chili lime miso butter and sushi rice ($39.95), and Steamed Lobster Tail (8 oz. for $47.95), Fried Shrimp served with either French Fries or sweet potato fries ($26.95) and the Hong Kong Style Sea Bass with teriyaki glazed julienne vegetables and sushi rice ($39.95).
Signatures are the stars of Perry's menu. A VIP list of crowd favorites that have stood the test of time, these dishes feature the best of the best. Enjoy a hearty Surf & Turf Pasta served with generous chunks of filet mignon and fresh lobster in a rich tomato basil sauce ($32.95). Another favorite signature item is the beautiful Symphony Kabob, a hanging presentation of alternating layers of succulent beef tenderloin, lobster and shrimp served over steamed asparagus ($44.95).
For those who want a little turf with their surf, order any steak or chop and top it with Perry's Truffle Buttered King Crab ($9.95), steamed or grilled Lobster ($11.95), two Bacon Wrapped Scallops ($7.95) or Alaskan Red King Crab ($16.95) for the best of both worlds.
The world is your oyster. Taste it at Perry's Steakhouse & Grille today by calling (630) 571-1808 for reservations.
About Perry's Steakhouse & Grille
Perry's Steakhouse & Grille has earned a faithful following by perfecting prime since 1979. Beginning as a modest meat market, Perry's has grown into a renowned group of award-winning restaurants with a stunning array of culinary creations. Perry's currently operates 13 steakhouse locations in Chicago, Denver, Birmingham and across Texas, with a new location planned for Grapevine, Texas in late 2017 as well as two Perry & Sons Market & Grille locations. For more information and updates on Perry's Steakhouse, please visit www.PerrysSteakhouse.com.
Source :
Perry's Steakhouse & Grille