Preview Of AML Wrestling & IMPACT Wrestling Present Confrontation 2017
Family-friendly pro wrestling returns to Hickory, NC with your favorite AML Wrestling & IMPACT Wrestling Stars plus Special Guests Vader, Ron Simmons and Super Crazyz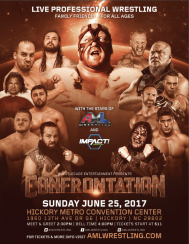 Press Release (ePRNews.com) - WINSTON-SALEM, N.C. - Jun 23, 2017 - By Staff Reporter Scott Eiland
In just its third year of existence, AML Wrestling is reaching unbelievable heights as it enters into the summer of 2017. The brand-new AML Wrestling Network is open and running, the AML Pro Wrestling Training Center is growing and each event seems to draw new fans from all ages and wrestling background. AML Wrestling is definitely leading the wrestling pack in 2017. On June 25, they put all of that on the line when AML Wrestling AND IMPACT Wrestling collide in "Confrontation," an event pitting the best AML Wrestling has to offer against the best talent in IMPACT Wrestling.
Here is the OFFICIAL preview Confrontation:
Zane Dawson (w/George South) vs. "The Monster Abyss" in a Monster's Ball Match for the AML Wrestling Championship – Since Dawson won the AML Wrestling Championship from King Shane Williams in February, he has faced and prevailed against opponents such as former WWE World Heavyweight Champion Jack Swagger. However, IMPACT Wrestling mainstay Abyss may present Dawson's toughest challenge to date because The Monster's Ball match stipulations of "Anything Goes" should fit right into the strengths of the challenger Abyss. With that being said, the AML Wrestling Champions mentor George South will be lurking from outside the ring with the rest of The Xpendables never that far away. This may give Dawson an advantage in this match but Abyss has a penchant for wild behavior that still gives him a good chance to walk away with the gold.
The Geordie Bulldogs vs. The Dixon Line for the AML Wrestling Tag Team Championship – The long running feud between the Brothers Denny and the Dixon Line hit its apex in April when Mark Denny was sidelined for six weeks after he received a concussion at the hands of The Dixon Line. Now back in action, Mark Denny has vowed revenge. The Dixon Line's ruthlessness and triple teaming show that they are capable of unseating the longtime champions but can they do it?
Brandon Scott defends the AML Wrestling Prestige Championship against Axton Ray and DJ Z from IMPACT Wrestling in a triple threat match – Brandon Scott's big win over his former best friend and tag team partner Axton Ray to win the Prestige title is now in the rearview mirror as the new champion has to face not only Axton but also the two-time IMPACT Wrestling X Division Champion DJ Z. The flamboyant Filipino enters the Prestige title picture as the third man in this three way for the Prestige strap. Look for this match to be another wild affair.
Caleb Konley vs. EC 3 – This match pits two men who are hitting the peaks of their respective careers. Not only is Konley a top contender for the AML Wrestling championship, he is currently under contract with IMPACT Wrestling and is considered a top contender for the X Division title. EC3 (Ethan Carter III) needs no introduction, as Dixie Carter's favorite nephew is well known to the AML Wrestling crowd. The online wrestling community has dubbed this a "dream match" and we agree that it may steal the show.
The Heatseekers (Sigmon and Elliot Russell) vs. Veterans of War (Anthony "Crimson" Mayweather and Jax "Wilcox" Dane) – The VOW have joined forces to battle the four time NWA World Tag Team Champions and former AML Wrestling Tag Team Champions The Heatseekers in a match that should prove a tremendous challenge for both teams. The Heatseekers have more experience as a tag team, but the physical domination that could be imposed by their opponents here may make that advantage moot.
CW Anderson vs. Eli Drake – CW Anderson, the man with the concrete left hand faces former TNA King of the Mountain Champion Eli Drake. The rest of this event is so stacked that this match isn't getting as much attention as it should. However, this one has the makings of an instant classic.
Suicide vs. Super Crazy – Suicide is mysterious and elusive (he was unavailable for a pre-interview with this reporter) but he's shown to be every bit the daredevil that Super Crazy is. Fans in attendance will get to see these two phenomenal athletes go head to head.
Also appearing: Wrestling Legends Big Van Vader and Ron Simmons!
The card, as always, is subject to change. Tickets are still available as we go to press, so head over to http://amlwrestling.com/get-tickets and pick some up while you still can. Online ticket sales will end at 2pm on Sunday, June 25, 2017. Afterwards, you can buy tickets at the door.
The Hickory Metro Convention Center is located at 1960 13th Avenue Drive Southeast in Hickory, NC 28602. Doors open for rows 1-2 at 2:30pm, for General Admission at 3pm with a 4pm bell time. Tickets start as low as $15.
We will have official results for this major event next week, but you do NOT want to miss this event! Be there!
Source :
WrestleCade Entertainment