USA Men And Women Wrestlers To Face Japan In Times Square May 17 for Beat the Streets Benefit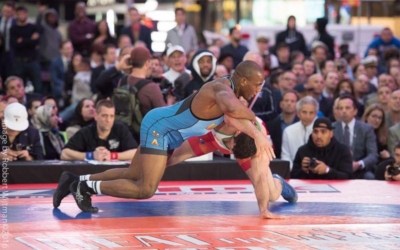 Press Release (ePRNews.com) - NEW YORK - Mar 06, 2017 - Beat the Streets Wrestling, Inc. and USA Wrestling announced today that the men's and women's national wrestling teams of the United States and Japan will square off in New York City's Times Square on Wednesday, May 17 in the seventh annual wrestling celebration. This year's event will take place in Times Square's Duffy Square (between 46th and 47th streets). Competitors for Team USA, which will include members of the 2016 Olympic team as well as other elite stars, and their Japanese opponents will be announced in the coming weeks.
"We welcome our friends and colleagues from Japan to help us spread the word and once again make history with our event in Times Square," said Beat the Streets Chairman of the Board Mike Novogratz. "We have worked with many nations in our goodwill mission for young people over the years, but bringing both the men's and women's elite wrestlers from Japan here for this dual meet will be a unique experience for all, with every dollar helping further our mission of growing the sport of wrestling in New York City across the country and around the world, from the grassroots on up."
In 2013, the event dubbed "The Rumble on the Rails," was hosted in historic Grand Central Terminal and featured dual meets between Team USA, Russia and Iran. Playing an important role in the international Keep Olympic Wrestling effort, this historic wrestling event gained international media coverage and helped wrestling retain its status on the Olympic Games program.
The world-class competition has been hosted in Times Square five previous times. In 2011, the United States defeated World Champion Russia, 5-2, the first sports event ever held in historic Times Square. In 2012, another U.S. vs. Russia dual meet was held in Times Square, along with the U.S. Olympic Team Wrestle-off for the 60 kg/132 lbs. position on the U.S. Olympic Team in men's freestyle. In 2014, Team USA defeated a World All-Star Team in Times Square, 8-3. In 2015, "Salsa in the Square" featured a meeting between Team USA and Team Cuba in the three Olympic styles, held shortly after the historic change in USA and Cuban political relations. Last year the US met Iran in a dual meet in Times Square as a preview to the 2016 Olympic Games.
This will be the eighth straight year in which a major international-style wrestling competition will be hosted as part of the Beat the Streets Benefit activities. In 2010, an all-star challenge featuring top U.S. wrestlers was held on the USS Intrepid, an aircraft carrier docked on the west side of Manhattan.
Top Beat the Streets youth wrestlers will take the mat showcasing their skills in exhibition matches beginning at 3:00 p.m. to kick off the NYC Benefit. For the second straight year, the Benefit will feature the PSAL Girls Freestyle Dual Meet Championships finals, showcasing the two top New York City girl's freestyle wrestling high school teams from the spring girl's freestyle season. Then it's Team USA vs. Japan at 6:00 p.m. with video highlights and special guest appearances followed by the Beat the Streets Benefit Celebration.
Tickets are required for entry and can be purchased at www.btsny.org or 212.245.6570 or by emailing beatthestreets@eventassociatesinc.com. Standing room available for non-ticket holders on first come first serve basis. A ticket is required for the Benefit Celebration at the Marriott Marquis. More details are available at http://www.btsny.org.
The Benefit Celebration will follow the wrestling competition. This unique and electrifying annual event helps Beat the Streets (BTS) raise significant funds to further its mission. Whether it's providing a safe, constructive outlet for our urban youth, fighting childhood obesity, empowering women, or uniting entire nations, wrestling teaches persistence, dedication, and the value of working hard to achieve one's goals and creates opportunities for personal and universal growth. BTS currently serve over 3,000 student-athletes every year.
Beat the Streets Wrestling Schedule
In New York City, May 17, 2017
3:00 p.m. – Beat the Streets Youth Exhibition Matches between 46th and 47th Streets
4:45 p.m. – New York City Girl's Freestyle Dual Meet Championships Finals between 46th and 47th Streets
6:00 p.m. – World Class Wrestling: Team USA vs. Team Japan between 46th and 47th Streets
Followed by Benefit Celebration
Source :
Beat the Streets Wrestling, Inc.