Victoria Anthony, Tamyra Mensah Join Olympic Champion Helen Maroulis In Beat The Streets Benefit
Two-Time Junior World Champion Anthony, 2016 Olympic Team Trials Champion Mensah On Board For May 17 Competition; Maroulis Opponent Changed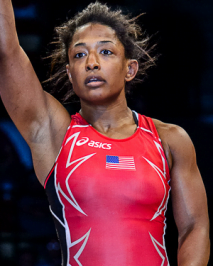 Press Release (ePRNews.com) - NEW YORK - May 03, 2017 - Two standout champions will join an Olympic gold medalist on Team USA when two-time Junior World champion Victoria Anthony and 2016 U.S. Olympic Team Trials champion Tamyra Mensah complete the American women wrestlers squaring off against Japan in the annual Beat the Streets Benefit on Wednesday, May 17, at New York's Times Square alongside 2016 Olympic Gold Medalist Helen Maroulis, who last week was named to the team. All three won the U.S. World Team Trials event in Las Vegas this past weekend.
Anthony (Tempe, Ariz./Sunkist Kids) will compete at 48 kg/105.5 lbs.; Maroulis (Sunkist Kids) is the U.S. representative at 58 kg/128 lbs., and Mensah (Katy, Texas/Titan Mercury WC) is slotted at 69 kg/152 lbs.
Since the announcement, Maroulis won the 58 kg/128 lbs. title at the U.S. World Team Trials in Las Vegas, Nev. on April 29, and earned a spot on the 2017 U.S. World Team. In addition to becoming the first U.S. woman to win an Olympic wrestling gold medal, Maroulis also boasts a 2015 World title, a 2012 World silver medal and a 2014 World bronze medal. The Rockville, Md., native is now training in New York at Columbia University's NYC RTC.
Maroulis' opponent in Times Square has been changed, as 2014 World champion Chiho Hamada of Japan had to withdraw due to injury. Maroulis will now face 2016 Junior World champion Yuzuru Kumano. Maroulis has a perfect 4-0 record in her previous Beat the Streets Benefit appearances.
With her victory in Las Vegas, Anthony has qualified for her second U.S. Senior World Team. She placed fifth in the 2013 World Championships, competing up a weight class at 51 kg/112.25 lbs. She is only the second U.S. woman athlete to win two Junior World titles (2009, 2010), joining two-time Olympian Ali Bernard with that lofty achievement.
Anthony became the first athlete to win four WCWA Women's College national titles, when she claimed her fourth title for Simon Fraser University in 2014. Maroulis, who was Anthony's teammate at Simon Fraser, became the second to win four WCWA titles later that day at the 2014 WCWA Nationals.
She is a native of Huntington Beach, Calif. and currently trains in Tempe, Ariz. with the Sunkist Kids. Anthony was second in the 2016 U.S. Olympic Team Trials and was a 2014 Pan American Championships gold medalist. She is also a two-time U.S. Open champion.
Anthony will face Yuki Irie, who won both a Junior World title and a University World title in 2012. Most recently, Irie was a 2016 Ivan Yarygin Grand Prix champion in Russia and a 2015 Senior Asian champion.
Mensah defeated two-time Olympian and four-time World medalist Elena Pirozhkova (New York, N.Y./Titan Mercury WC) to win the 2017 World Team Trials and earn a spot on her first U.S. Senior World Team. Mensah was named Outstanding Wrestler at the 2017 World Team Trials based upon her achievement.
Last April, Mensah won the 2016 U.S. Olympic Team Trials in Iowa City, but was unable to compete in the Rio Olympic Games because the USA failed to qualify for the Olympics at her weight class.
Mensah won a gold medal at the prestigious Ivan Yarygin Memorial Grand Prix in Russia in January, only the sixth U.S. woman to win this event and the first since 2010. She was a 2016 U.S. Open champion, and was third in the 2015 Olympic Test Event in Brazil. Mensah won two WCWA College National titles for Wayland Baptist University, in 2014 and 2017.
In Times Square, Mensah will battle 2016 Cadet World silver medalist Miwa Morikawa, a showdown of two of the top young stars at 69 kg on the women's scene.
The other U.S. athlete who has confirmed participation in the USA vs. Japan dual meet is 2016 World champion Logan Stieber (Columbus, Ohio/Titan Mercury WC/Ohio RTC), who will battle Shingo Arimoto at 61 kg/134 lbs. in men's freestyle. Stieber was a four-time NCAA champion for Ohio State.
The rest of the U.S. men's freestyle team roster is currently being completed and will be announced shortly.
Learn more at http://www.btsny.org.
Source :
Beat the Streets