Salus Sauna Heats Up San Diego
Company Brings Country's Hottest Health Trend to San Diego County Fair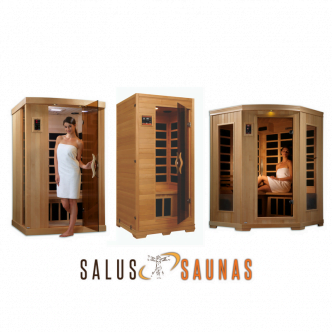 Press Release (ePRNews.com) - SAN DIEGO - Jun 02, 2017 - The summer's hottest event just got a little warmer thanks to a company that wants everyone to experience the healing power of infrared sauna therapy.
San Diego County Fair attendees can visit the Salus Sauna booth in the exhibit hall and try several different infrared sauna models. In addition to special pricing during the fair, the company is offering an additional 25 percent discount to members of the military and first responders.
"Research continues to show that those who serve and protect our country do so at great risk to themselves. They are more likely to develop cancer and neurological issues than the general public. Sauna therapy can be used to help the body safely eliminate toxins for better health," said Mark Hammette, owner of Salus Sauna.
Symptoms of toxicity include respiratory issues, fatigue, headaches, loss of dexterity, and mental confusion. Sauna therapy clinics were successfully used to treat first responders after 9/11 and many fire departments across the country have installed added infrared saunas in their fire houses.
Traditional saunas, which have been used for thousands of years, generate heat to warm the air which in turn warms the body. As Infrared saunas heat the body directly and at a lower temperature, units can be used by those with a lower heat tolerance or who may not be able to use a traditional sauna for medical reasons. A study conducted by The National Center for Biotechnology found regular sauna use benefitted those with high blood pressure. Other studies have confirmed the benefits of sauna use for athletes, diabetics, those with Lyme disease, diabetes, arthritis, and depression.
Infrared saunas have become a popular spa and wellness experience. Celebrities such as Gwyneth Paltrow, Jennifer Aniston, Busy Phillips, and Lady GaGa have shared their positive results with infrared sauna use in interviews and on social media.
"Our goal is to make infrared sauna therapy available to everyone who needs it. With financing, it's more economical to buy an infrared sauna than it is to pay for using one at a clinic or wellness center," said Hammette.
Salus's line of infrared saunas come in a variety of sizes and configurations, including corner models and a small, one-person unit that can fit in a closet.Infrared saunas use a standard household outlet and heat within minutes which saves users time and money. Units do not require water, can be placed on any surface, and feature latch assembly which means that users can assemble a unit in hours without construction or special tools.
More information on infrared sauna use is available at www.salussaunas.com. The 2017 San Diego County Fair, located at the DelMar Fairgrounds (2260 Jimmy Durante Blvd, Del Mar, CA 92014), is open June 2-July 4. The Fair is closed Mondays (except July 3) and the first three Tuesdays.
Background material:
Salus Sauna Health Library: http://salussaunas.com/article-library.html
Journal of the American Medical Association: http://jamanetwork.com/journals/jama/article-abstract/360118
Fire Engineering Magazine Article: http://salussaunas.com/assets/detoxification-program-for-wtc-responders.pdf
National Institute of Health Article: https://www.ncbi.nlm.nih.gov/pubmed/15090706
Source :
Salus Saunas