Screening & Quantification for Heavy Metals in Cosmetics Using ED-XRF Analyzers is Detailed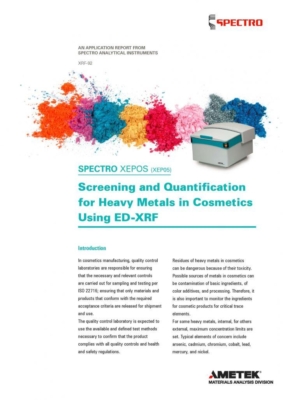 Press Release (ePRNews.com) - MAHWAH, N.J. - Mar 09, 2017 - The screening and quantification for heavy metals in cosmetics using energy-dispersive x-ray fluorescence (ED-XRF) analyzers is detailed in a new application brief available to download from SPECTRO.
Regulations and standards have made it increasingly important for the manufacturers of cosmetics to monitor and test the elemental compositions of their products to ensure consumer safety and health. Only materials and products that conform with the respective specifications can be distributed.
ED-XRF technology — one of the preferred choices for elemental analysis at-line and in the laboratory — is one of the analytical tests described in ISO/TR 17276 – "Cosmetics – Analytical approach for screening and quantification methods for heavy metals in cosmetics." ED-XRF analysis is characterized by its relatively simple sample preparation and by its ease of use as well as by its precision.
Titled "Screening and Quantification for Heavy Metals in Cosmetics Using ED-XRF," the new application brief details how the next-generation SPECTRO XEPOS ED-XRF spectrometer is particularly well suited to performing a quick screening analysis for heavy metals, and how the SPECTRO XEPOS achieved detection limits for heavy metal content in raw materials and in final products previously only possible with more expensive laboratory instrumentation.
Download "Screening and Quantification for Heavy Metals in Cosmetics Using ED-XRF," at http://xrf.spectro.com/spectro-xepos/application-briefs/s…. It is authored by SPECTRO Analytical Instruments, a leading global supplier of analytical instruments for optical emission and X-ray fluorescence spectrometry.
About SPECTRO:
SPECTRO, a unit of the Materials Analysis Division of AMETEK, Inc., manufactures advanced instruments, develops the best solutions for elemental analysis in a broad range of applications, and provides exemplary customer service.
SPECTRO's products are known for their superior technical capabilities that deliver measurable benefits to the customer. From its foundation in 1979 until today, more than 40,000 analytical instruments have been delivered to customers around the world.
AMETEK, Inc. is a leading global manufacturer of electronic instruments and electromechanical products, with over 15,000 colleagues at more than 150 manufacturing and sales and service operations in the United States and 30 other countries around the world.
For more information, visit http://www.spectro.com or email spectro.info@ametek.com.
Source :
SPECTRO