Shriram Automall Inaugurates Its First Facility In Coimbatore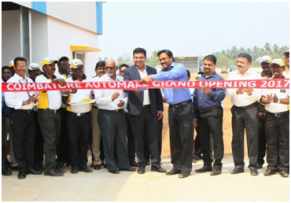 Press Release (ePRNews.com) - PITAM PURA, India - Feb 16, 2017 - New Delhi, Shriram Automall India Limited (SAMIL), India's Largest Service Provider for Exchange of Pre-owned Vehicles & Equipment, inaugurated its 65th Fantastic Automall facility in Coimbatore. The Automall is the 5th facility in the Tamil Nadu State and is in line with the aggressive expansion plans of the company. Spread across a sprawling 9.9 acres of land, The Automall is strategically located at the National Highway-47, Perundurai – Coimbatore road and promises complete solutions to the pre-owned vehicles and equipment related needs of transporters, contractors, dealerships, manufacturers and individual buyers.
People from across the locations of METTUPALAYAM, POLLACHI, TIRUPUR, ERODE & SALEM region will be reaping benefits of Shriram Automall's Holistic services and unique platforms for easily acquiring and disposing used vehicles & Equipment.
In conjunction with the grand inauguration ceremony, a live bidding event was also held at the Coimbatore Automall where over 250 used vehicles & construction equipment were displayed on the ramp for the customers to bid on out which the company successfully disposed over 110 vehicles & equipment by the end of the day. The event was also followed tree plantation activity at the Automall.
Moreover health checkup camp was organized where professional doctors conducted the eye test free of cost for our customers. Easy finance assistance by Shriram Transport Finance Company (STFC) was provided moreover scholarship cheques were distributed to 20 deserving students to help them shape their life in a better and successful way.
List of Existing Automalls in Tamil Nadu:
AUTOMALLS – Tamil Nadu
Chennai Tirunelveli Trichy Madurai
Shriram Automalls bidding events have become the best platform to buy and sell used vehicles & equipment in the most organized and transparent way, customers get to choose from a plethora of options.
The company utilized both Traditional & Digital Marketing methods to reach out to maximum people. Social media promotion was carried out extensively on all company profiles for couple of days. SMS and Telecalling activities were carried out for Coimbatore and nearby customers to make the event a successful one.
Contact Coimbatore Automall:
Shriram Automall Coimbatore, Pallangarai, Road, Devampalayam, Avinashi, Tamil Nadu – 641654
Contact – 094422 03405
About Shriram Automall
SAMIL is one-of-its kind facility, is a wholly owned subsidiary of Shriram Transport Finance Company (STFC). It is India's first-ever service provider that offers various well organized and transparent bidding platforms, including physical, online, one stop classified and negotiated deals, for acquisition & disposal of pre-owned commercial vehicles, construction & industrial equipment, tractors & agricultural equipment, passenger vehicles, three wheelers and two wheelers. Company has its presence all over the country with its already established 64 Automalls and 150+ bidding locations. The company has been awarded ISO 9001:2008 certification for its Quality Management System and rated AA+ from CRISIL.
For more information, please contact:
Ms. Jyoti Jain (NH-Marketing of SAMIL)
SHRIRAM AUTOMALL INDIA LIMITED
2nd Floor, Best Sky Tower,
Netaji Subhash Place, Pitampura, Delhi-110034
Tel: 011-41414444, Fax: 011-42414444
E-Mail: contact@samil.in
Website: www.samil.in
Source :
Shriram Automall