Social Panda Offers Complimentary SEO Review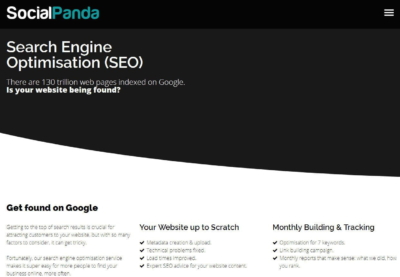 Press Release (ePRNews.com) - MELBOURNE, Australia - Aug 21, 2017 - The team at Social Panda are offering a complimentary SEO review to potential customers. Search engine optimisation (SEO) is a technical process that helps a website rank prominently on the major search engines for relevant keywords. Websites that rank well on the search engines are able to get more traffic and generate more revenue.
The process of optimising a website has changed dramatically in recent years so the company has decided to offer this free website/SEO review to help business owners know what areas of their site are doing well and what areas should be revamped.
SEO Levels the Online Playing Field
SEO is crucial for any business owner because, when done properly, it levels the playing field so that small businesses can compete with larger, more established brands. The SEO process requires time to develop and nurture. Given the lag time between SEO optimisation and realizing increased website traffic, business owners who haven't been paying attention to SEO would be wise to leverage this complimentary SEO review. Once the assessment has been performed and the report provided by Social Panda, the business owner will have a plan of attack they can proceed with.
Importance of Leveraging SEO
SEO is one of the most effective tools any business can leverage when they are trying to gain market share. The internet is the primary information source for consumers, and shoppers rarely look past the second page of search results to find what they need. Hence the importance of leveraging SEO to improve your search engine rankings.
With each passing day, businesses that are not implementing the latest developments in SEO are losing ground, so with that sentiment in mind, it would be wise to take advantage of the complimentary SEO review being offered by Social Panda at https://www.socialpanda.com.au/search-engine-optimisation/. It could give businesses the edge they need to compete in the new digital economy.
Source :
Social Panda