Stevin John Begins Distribution of Blippi in Spanish!
With over 1 Billion views on YouTube alone, creator Stevin John moves forward with dubbing and distribution of Blippi in Spanish.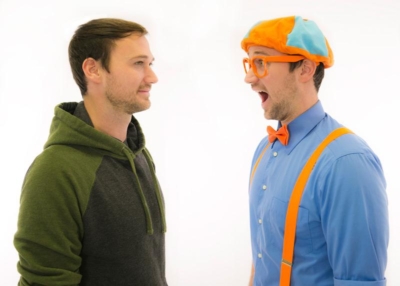 Press Release (ePRNews.com) - SEATTLE - May 05, 2017 - Blippi has a new voice and it's in Spanish! With the Blippi brand expanding rapidly and more quality content being consistently produced, creator Stevin John made the decisive choice to begin translating content into Spanish. Blippi was founded in 2014 in English and has become two of the world's most successful YouTube channels and a top 100 performing Amazon Video shows. The viewership on YouTube alone is over a staggering 1 billion views!
There are about 510 million English speakers in the world and about 420 million Spanish speakers. Stevin quickly realized the potential of his world-renowned children's brand if it was accessible to those who speak Spanish as their first language. "Due to the amount of Spanish speakers in the world and the current popularity of Blippi is in English, translating and dubbing Blippi into Spanish was a no brainer." said Stevin John.
Stevin began his search for the perfect Blippi Spanish voice in late 2016. After many applicants, Stevin narrowed it down to a Costa Rican local, José Miguel Rojas. With a degree in marketing and a background as a successful producer, voice over artist, and singer-songwriter, José was the perfect candidate to add to the expanding Blippi team.
Stevin and José directly work together to provide quality Blippi videos in Spanish. José records the dialogue in Spanish in one session then records musical vocals separately. Stevin then takes the files and dubs over his original English audio with the Spanish version. The entire process is done remotely, which allows the Blippi Spanish voice to be from a native speaker.
Blippi Español was just an idea in January 2017, after its creation, it has now surpassed a few millions views in just a couple months. When asked Stevin John about the new channel he responded with, "I'm very happy that with the use of the internet and working with a talented voice over artist, I can make Blippi content available to the spanish speaking community". Stevin said he has plans to increase his video library of spanish content dramatically over the next year.
You can view Blippi videos in Spanish at https://youtube.com/BlippiEspañol
You can view Blippi's Official Website at https://Blippi.com
Source :
Blippi LLC