Successful Careers Spotlight ends at Zayed University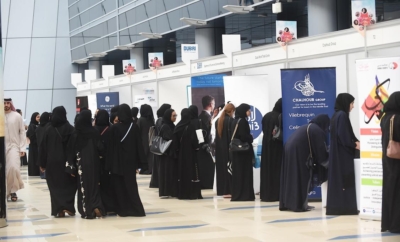 Press Release (ePRNews.com) - DUBAI, UAE - Mar 06, 2017 - The annual Zayed University Careers Spotlight, which was held under the theme "My Career, My Happiness," ended today (Monday) with hundreds of students connected and networked with agencies about potential job placement.
The three-day fair aimed at connecting top UAE employers with prospective employees, who are in the form of university's graduating students and alumni. Besides meeting with employers, students were able to network with like-minded job seekers and learn more about employment opportunities that they may not have heard about.
Careers Spotlight was inaugurated by Professor Reyadh AlMehaideb, Vice President of ZU, Dr Marilyn Roberts, Provost, Dr Abdel Mohsen Onsy, Associate Provost and Chief Academic Officer, Dr Fatima AlDarmaki, Assistant Provost for Student Affairs, Shamsa Al Taie, Director of Student Affairs in Abu Dhabi campus, Fathiya AlKhamiri, Director of Student Affairs in Dubai campus, Jane Tatterton andRashed AlShamsi, Managers of Student Careers, as well as faculty and other senior officials.
Commenting on the importance of the career fair, Professor AlMehaideb said: "Careers Spotlight is a great venue that allows students to interact with employers from both the public and private sector in different fields. It also helps students to explore a range of career paths and identify the key skills needed in order to become a successful professional."
This year, almost 150 employers from semi-government and private companies participated at Careers Spotlight in both Abu Dhabi and Dubai campuses, with the aim to recruit ZU students and fresh graduates as either full-time employees and/or interns.
Some of the companies present included Abu Dhabi Housing Authority, Abu Dhabi Tourism and Culture Authority, Emirates Foundation, New York University Abu Dhabi, Mubadala Investment Company, Ernst and Young, Marsh Emirates Insurance Brokerage and Consultancy, KPMG, INJAZ UAE, L'Oreal Middle East, and many others.
ENDS//
Source :
Zayed University

Business Info :
Zayed University
United Arab Emirates