Tharaldson Hospitality Management Opens Staybridge Suites Columbus Polaris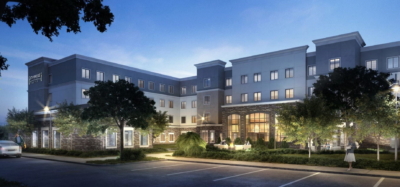 Press Release (ePRNews.com) - Columbus, Ohio - Sep 05, 2017 - Tharaldson Hospitality Management, has announced the opening of Staybridge Suites® Columbus Polaris, an Intercontinental Hotel Group brand, in one of the most impressive shopping destinations in Columbus with an annual visitor rate exceeding 12 million visitors. The 119 all-Suite hotel is located at 9090 Lyra Drive, Columbus Ohio.
Aimee Fyke, Chief Operating Officer, Tharaldson Hospitality, said, "As part of IHG's family of brands, Staybridge Suites® Columbus Polaris endeavors to provide guests with the best extended-stay experience possible.  We believe our unique offering, coupled with an excellent location at Polaris Centers of Commerce will allow Staybridge Suites® Columbus Polaris to serve the needs of families, leisure, and business travelers alike".
The hotel's connection to the Polaris Fashion Place and proximity to new IKEA Columbus Home Furnishings and Tanger Factory Outlet, make it an attractive location for families as well as transient guests to Columbus.  Business travelers can now choose this ideal location situated at Polaris.  The hotel is off I71 which provides a commute of less than 15 minutes to John Glenn International Airport and the hotel is also close to downtown Columbus, allowing guests to reach the center of the city in less than 20 minutes.
"We are delighted to partner with IHG with the launch of Staybridge Suites® Columbus Polaris.  The Polaris area economy continues to grow as a commercial hub for JP Morgan Chase and industries such as engineering, real estate, construction, and IT/telecommunications.  This means an ever-increasing number of visitors who need extended stay options. Staybridge Suites® Columbus Polaris offers business travelers a world-class extended stay experience whenever they make Polaris their home-away-from home", said Rachel Marchant, General Manager.
Staybridge Suites Polaris hotels cater to extended-stay travelers and offer competitive rates to business travelers.  Guests will be able to choose from a selection of three suite configurations (deluxe studio, one-bedroom and two-bedroom/2bath).   Staybridge Suites® Columbus Polaris offers a home-like, upscale extended stay with a feeling of community with free Wireless Anywhere, suites with more space and a full kitchen, evening receptions and complimentary hot breakfast. There are also full-sized storage units, huge great room with two-story stone gas fireplace, business center, heated indoor pool, fitness center, gas fire pits and we are pet friendly.   We know that being on the road means balancing work, family and friends, so we will go out of our way to make your travelers stays enjoyable while keeping them connected to what matters most.
#####
Since his first hotel acquisition in 1982, Gary Tharaldson has owned over 350 hotel properties throughout the United States. He has been instrumental in developing prototype properties for the likes of Marriott and Hilton, and has received numerous Developer of the Year awards from the same highly respected franchise companies.
Tharaldson Hospitality Management LLC, operates a portfolio of business class hotels under franchise license agreements with Intercontinental Hotels Group, Marriott International and Hilton. Our goal is to maximize the operational quality and financial performance of our hotels, grow market share and enhance the performance of our hotels through the constant pursuit of superior levels of quality, efficiency and service.
Our people are our strength and we believe in allowing individuals at all levels the freedom to be creative, solve problems and implement their decisions. THM, formed in January 2011, manages 36 hotels in 14 states with an additional 5 hotels opening in 2017.
#####
About Staybridge Suites Hotels
Staybridge Suites® is an innovative, all-suite hotel brand designed to meet the needs of extended stay guests seeking a warm sense of community in a home-like environment that is perfect for business, relocation and vacations.  The Staybridge Suites brand entered the extended stay segment in December 1998 when its flagship location in Alpharetta, Ga., opened. Since that opening, the Staybridge Suites brand continues to grow rapidly with 219 hotels open across the Americas, Europe and the Middle East.  There are more than 100 Staybridge Suites hotels in the pipeline, including eight outside of the Americas.For more information about the Staybridge Suites brand, call 1-877-238-8889 or visit www.StaybridgeSuites.com. Find Staybridge Suites hotels on Twitter http://www.twitter.com/Staybridge or Facebook www.Facebook.com/StaybridgeSuites.
Media Contact:
Amy Trostle
Staybridge Suites Columbus Polaris
217.876.8809