The Benefits of Using Digital Catalogs Made With FlipHTML5 for Businesses
FlipHTML5 is an innovative and powerful digital publishing platform that can help businesses increase their customer engagement. With its advanced features, FlipHTML5 enables businesses to create interactive digital catalogs that can be accessed from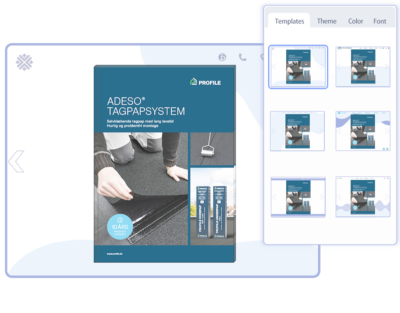 Press Release (ePRNews.com) - Hong Kong, China - Mar 08, 2023 - FlipHTML5, a leading digital publishing platform, is helping businesses create and share interactive virtual marketing materials that drive customer engagement and loyalty. The power of FlipHTML5 lies in its ability to bring static content to life with rich visuals and animations. Businesses can showcase their products with videos, images, and user reviews. They can also include interactive forms for surveys, online orders, and links to social media accounts for further engagement. The digital catalog allows businesses to track customer behavior with detailed real-time analytics, so they know precisely what content resonates with their customers.
The interactive nature of FlipHTML5's digital catalog makes it much more memorable than traditional print materials, and customers are more likely to remember it. With the help of FlipHTML5, businesses can now create engaging catalogs that will help draw in new customers and keep existing customers coming back for more.
FlipHTML5 helps businesses create visually appealing catalogs and offers robust distribution tools to help get their content out into the world. Companies can share their digital catalogs through various channels, including email, social media, web page links, or even QR codes. Additionally, they can embed the catalog onto their website or blog for easy access for customers wherever they go. With FlipHTML5's advanced SEO tools, businesses can ensure their catalogs are easily found through search engine results.
With the help of this powerful digital publishing platform, businesses can create beautiful and engaging digital catalogs that will drive customer engagement and loyalty. Their interactive designs allow customers to quickly access product information and reviews and place orders directly from the catalog. Plus, they get detailed analytics to know how customers interact with their content.
"Businesses creating digital catalogs using FlipHTML5 have seen up to a 70% increase in customer engagement. With the platform's customizable designs and tools, clients can tailor digital catalogs to fit their brand identity – allowing them to be truly unique while still appealing to customers," says Winston Zhang, CEO of FlipHTML5.
For more detailed information on digital catalog solutions, please visit FlipHTML5.
About FlipHTML5

FlipHTML5 is a digital publishing platform developer for creators who want to bring their work to a wider audience. It features powerful tools that make it easy to create, distribute, and store content in an engaging form. Whether you're a publisher, artist, or entrepreneur, FlipHTML5 has high-quality solutions to showcase your content and boost its performance.
Source :
FlipHTML5 Software Co., Ltd.