The Psalm 23:4 Though I Walk Through The Valley Of The Shadow Of Death Coin Released
At Vision-Strike-Wear.Com sometimes it's a name, or a unit, possibly a ship or command that is requesting a design whereby a military challenge coin is created then sent out the door.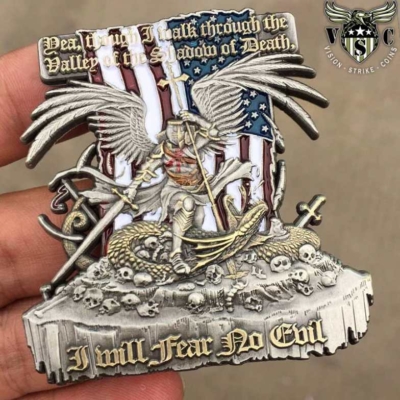 Press Release (ePRNews.com) - HOUSTON - Aug 22, 2017 - In the case of the Psalm 23:4 Though I Walk Through The Valley Of The Shadow Of Death Coin it was discussed with VSW and its customers throughout its social media presence and the one unquestionable response back when the initial design was laid down was this was something they wanted and that needed to be crafted into a coin. There is without question a connection with faith and the US military. Against all odds, hugely disadvantaged militarily at the founding of our country, the US military has gone to the well on the subject of faith and belief and has come out the victor.
For over 9 years the United States military and Veterans have turned to VSW to have cutting edge, razor sharp military graphics developed for their needs. Whether in support of a special program, a 5K run, CrossFit challenge or simple something for wear when working in support of some fundraising effort they have pulled their incredible experience together with the design talents of VSW to produce some of the best military coins in the industry.
At Vision-Strike-Wear.Com we know that amazing military artwork is the key to printing and having a great t-shirt made for the men and women of the United States military. It's about morale. It's about professionalism and ultimately it is about creativity blended with a military spin that produces uncompromising military art on a military coin. At VSW it is their mission to support these men and women whose sacrifice to ensure the US Veterans get the very best and aims to do so.
For over 9 years the men and women of Vision-Strike-Wear.Com have been producing custom military shirts for their brothers and sisters in every branch of the US military. Their designs have been seen on aircraft carriers, destroyers, in hangars for squadrons, on deployment shirts in Afghanistan and Iraq, travelled from Djibouti, Africa to Subic Bay Philippines and more places than you can shake a stick out. Their art has been sought after because they do not compromise. They also don't Vision Strike Coins Opens Its Doors to the Newest Military Challenge Coins & Quality in the Industry. Their art is original and it is built with a collaboration between artists and the point of contact for the unit or the command.
They are busy as artists go but that is because they spare nothing when it comes to the detail that others will not do but VSW will on a daily basis. Another reason why so many of their designs are copied and fail to pass inspection.
So when US Veterans wanted a cool coin that they recognize was to be staple in their military challenge coin collection they asked for the Psalm 23:4 Though I Walk Through The Valley Of The Shadow Of Death Coin to be made and they got it and they did so with the flair and gusto only achieved at VSW. They asked for the moon with their custom design and VSW was happy as hell to deliver it. It was so successful they reordered almost immediately. Check it out here – http://www.vision-strike-wear.com/Psalm-23-4-Though-I-Wal…
When you and your unit are in the market for military shirts custom designed and printed then you have to go to Vision-Strike-Wear.Com
About Vision-Strike-Wear.Com
The mission is to produce the most detailed, cost efficient, USA Made products in the industry. With offices located throughout the United States from Oregon to California, Texas to Florida each of our offices brings a dedication to serving America with design and printing found on everything from apparel items like shirts and hoodies, to drinkware including steins, coffee mugs and more. Their design expertise with their combined knowledge and background as US Veterans and a fervent desire to provide the very best military designs and products is at the heart of everything they do.
The Vision-Strike-Wear.Com Difference.
Originality. The artists and their diverse car backgrounds of our artists stand at the center of what makes VSW different. They are an OEM. That means they make many of the products they offer at http://www.vision-strike-wear.com The USA Made Difference means that VSW always looks for and supports American Made products. They support American small business and whenever a product can be sourced then it goes to the head of the line.
Hiring Veterans and Active Duty
VSW has hired both active duty and US Veterans in its many positions throughout the company. As we continue to grow we look forward to increasing the ranks of these amazing men and women. We consider ourselves very fortunate to have the opportunity to work with such a dynamic, creative and inspiring group of professionals.
Vision-Strike-Wear.Com Designs
Source :
Vision-Strike-Wear.Com