The Rio Seasoning Company Providing Free Shipping on Gift Set for a Limited Time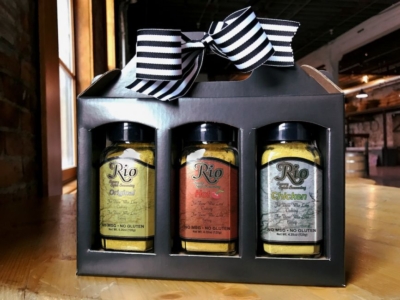 Press Release (ePRNews.com) - SPOKANE, Wash. - Nov 09, 2017 - Contact:
Richard Curtis, Founder
The Rio Seasoning Company
info@rioseasoning.com
rioseasoning.com
509-276-5559
The Rio Seasoning Company Providing Free Shipping on Gift Set for a Limited Time
Deer Park, WA – For a limited time, The Rio Seasoning Company is offering free shipping on their 3 bottle gift set, which includes each of Rio's signature flavors: Original, Chicken, and Hot. Customers can find the gift set online at Rio's website: https://rioseasoning.com/rio-three-pack/.
Company founder Richard Curtis says, "I love the unique flavor our original seasoning brings, but I always recommend chefs have all three flavors in the kitchen for the perfect match to any dish. I'm excited free shipping will make it that much easier for folks to get their hands on the complete Rio collection."
For those in the Spokane, WA area, Rio's line of seasonings can also be found at various Yoke's Fresh dxnj Market stores and in My Fresh Basket.
About The Rio Seasoning Company
The Rio Seasoning Company is a family owned and operated business located in Deer Park, Washington. The Rio Seasoning Company's seasonings are proudly made in the U.S.
We at The Rio Seasoning Company go to great lengths to ensure that our Brazilian inspired seasonings are unique and of superior quality. They were created for those who love cooking and especially for those who love eating.
Source :
The Rio Seasoning Company