Top Celebrity and Billionaire Matchmaker Patti Stanger To Be Matched By Students Live At The Matchmaking Institute's L.A. Training
Students will have the rare opportunity to match Patti Stanger on her next date during her Millionaire Masterclass at The Matchmaking Institute's live training on July 13-15 in Los Angeles on July 13-15 in Los Angeles.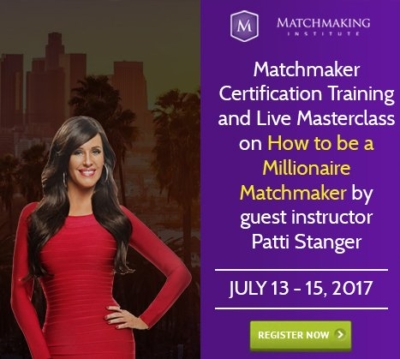 Press Release (ePRNews.com) - NEW YORK & LOS ANGELES - Jun 30, 2017 - Some of the industry's top love connectors, including Patti Stanger, Lisa Clampitt, Rachel Russo and Arlene Vasquez Washburn will gather in Marina del Rey to train new matchmakers looking to gain their certification at the 3-day event. Day 3 offers advanced study for experienced matchmakers wanting to level up in their current business while confidently doubling their impact and profit.
Matchmaking Institute's CEO, Arlene Vasquez Washburn said, "I'm thrilled to have top celebrity and billionaire matchmaker, Patti, teaching and sharing her behind-the-scenes strategies for becoming a millionaire matchmaker in an interactive masterclass designed exclusively for MMI students." Students will utilize the expertise learned from Patti along with her insight, and honest feedback to help Patti successfully find her next date. Students will also be able to use this particular formula for finding and matching Silicon Valley billionaire executives.
The agenda for the weekend will also feature boot camp style classes ranging from starting and growing a matchmaking business, pricing services for more consistent success through creative revenue models, and leveraging expertise with book deals and additional earnings through coaching. Students will also participate in a private mentoring session to define or refine their brand and particular niche while building a loyal social media following with simple steps for more visibility.
As more and more singles are turning to matchmaking and love coaching to find their perfect match, there is simply no better time to learn from the leading authoritative voices in the matchmaking industry, along with the rare opportunity to learn and work beside Patti Stanger.
For more information on The Matchmaking Institute's L.A. Live Training, including the complete agenda, please visit: https://matchmakinginstitute.com/live-training/losangeles/
ABOUT THE MATCHMAKING INSTITUTE:
The Matchmaking Institute is the only state licensed school in the world for matchmakers and love professionals. The Institute is the leading authoritative voice of the international matchmaking industry with its members providing a reputable and ethical service. It strives to increase the industry's public and media awareness, raise its standards, and establish a set code of ethics. The Institute provides training for new matchmakers, ongoing professional education, and tools for experienced matchmakers.
Source :
Matchmaking Institute