US Senate Candidate, Antoine Pierce, Proclaims Republicans Don't Own the Christian Vote in Louisiana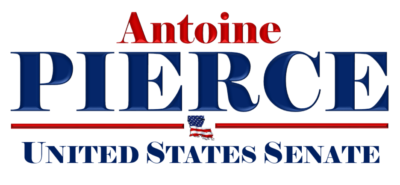 Press Release (ePRNews.com) - Baton Rouge, Lousiana - Sep 03, 2019 - Baton Rouge native and community activist, Antoine Pierce, has announced his Christian values will play a pivotal role in his upcoming run for the U.S. Senate.
Pierce is the only Democrat to formally declare he is running for the 2020 U.S. Senate seat, currently held by Republican incumbent, Bill Cassidy.
Pierce is a fiance, father, and devout Christian. He was born into a large family that instilled Christian values of love, tolerance, and compassion. Pierce says it was these Christian values that inspired him to found the nonprofit organization, Better Boys Initiative, Inc., which uses the arts to mentor young men of color in Baton Rouge. The organization has helped countless youth across Baton Rouge.
"Many conservatives in the Trump Republican party wrongly believe they own the Christian values voice," said Pierce. "That's not true, especially here in Louisiana. People in my church and community are conservative, God-loving Louisianans – and they are also Democrats. We need to bring these Christian values to Washington and elect a Senator who shares our values, moral compass and political beliefs."
Breakdown of Louisiana Voters and Their Beliefs
Roughly 84 percent of adults in Louisiana identify themselves as Christian, according to the Pew Research Center, while more than half – 43 percent – identify themselves as Democrats. The same study showed roughly 90 percent of all Louisiana adults say religion is important or very important to them. Only Alabama and Mississippi ranked higher when it came to the importance of religion.
"The Democratic Party is compatible with the teachings of Christianity and the Bible," said Pierce. "Our current Senator isn't aligned with our government policies, our values, and our Christian beliefs."
Pierce says the Christian values he shares with Republicans and Democrats are enough to defeat the incumbent, Sen. Bill Cassidy, who is of Irish and Welsh descent. Cassidy defeated three-term incumbent Democratic Senator Mary Landrieu in a run-off election in 2014. This was the first Republican victory for the seat since 1883.
Pierce says these Christian values he shares with Republicans, Democrats, and Independents are enough to help him defeat the Cassidy-GOP machine. Nearly half – 47 percent – of Black Democrats say they attend church at least weekly, and about three-quarters – 74 percent – pray daily, according to the Pew Research Center.
"My Christian beliefs and moral values, along with my tolerance and compassion, will influence where I stand on issues like health care, minimum wage, women's rights and childcare," said Pierce. "We don't need to compromise our Christian values, or the needs of Louisianans for the sake of party. I'm ready to be the voice for our state and bring my faith-based policies to all of Louisiana."
Pierce has an extensive career that spans the nonprofit, public and private sectors. He's a radio talk show host, delegate for the Urban Congress on African American Boys in Baton Rouge, Fellow on the Fifth Cohort of the Urban Leadership Development initiative, and founder of the Better Boys Initiative – a nonprofit organization that uses the arts to develop character and self esteem among underserved youth throughout Baton Rouge.
Pierce has also served on Mayor-President Sharon Weston Broome's transition subcommittee for the Office of Community Development, and is an appointee of Governor John Bel Edwards' advisory board for Juvenile Justice and Delinquency Prevention. He graduated from Louisiana State University with a B.S. in Child and Family Studies, and is currently pursuing a Master's degree in Public Administration with a concentration in Public Policy.
"If you'd like to join the #Pierce2020 movement and get involved, you can volunteer, donate or help us spread our message across this state. Together, we can make Washington work for us," said Pierce.
Media Contact: Mark Macias
Email: mmm@maciaspr.com
Phone: 646-770-0541