USTMA Taekwondo Competes in South Korean Championship Taekwondo Tournament
United States Taekwondo Martial Arts Academy, in Leesburg, VA, teaching all ages Taekwondo.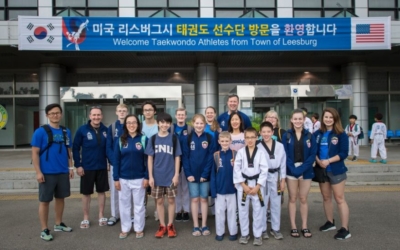 Press Release (ePRNews.com) - LEESBURG, Va. - Aug 04, 2017 - USTMA, winner of the 2016 and 2017 Best of Loudoun, traveled to South Korea to participate in the 20th Samcheok Mayor's Taekwondo Championship, June 28 to July 8, 2017. Under the leadership of Grand Master Choi, Master John Choi, and Alessandra Riederer. Students participated in Forms (Poomse), Sparring (Kyorugi) and Board Breaking (Gyukpa) events.
USTMA Competitors ranged in ages from 8 -50+ years; Ky Quan, Ethan Quan, Henry Quan, Richard Sawchak, Jennifer Sawchak, Ally Sawchak, Robin Hardy, Ethan Hardy, Wyatt Hardy, Angela Lierni, Benjamin Lierni, Joshua Lierni, Jenna Lierni, Samantha Gode, Andrew Gode, and Sherilee Gode.
USTMA not only provides students with instruction on taekwondo, they also provide education and opportunity to learn about the South Korean culture. Since 2003 Leesburg, VA, has been linked to Samcheok City, South Korea. Annually, Korean students come to visit and compete in the USTMA Kick Cancer Out of the World Tournament and USTMA Taekwondo students compete in their Mayor's Championship.
Master John Choi shared "At USTMA, we are more than Taekwondo. We like to provide a comprehensive experience to our students. This year two of our students; Ethan Quan (age 17) and Henry Quan (age 13) trained with the Samil High School Taekwondo team, in Samcheok City, South Korea, from June 10 – June 27. We are so glad we could provide them with this experience!"
"It is awesome to be able to go to Korea and compete with our students. The culture, taekwondo, and camaraderie at USTMA is unique and can not be found in any other local Dojang." states Al Riederer, instructor at USTMA.
Now is a great time to come in and visit for a week of free classes to see if you are ready to join the USTMA family. Just call or email to sign up. ADDITIONALLY, from August 7 to August 31, 2017 anyone who signs up for the Black Belt Program will receive the program for $30 per month, in celebration of their 30 year anniversary!
About USTMA Taekwondo: Founded in 1987 by Grand Master Choi, USTMA is a family owned and operated school offering a variety of classes and services. USTMA is located in Leesburg, VA and welcomes visitors to come and take a tour of their facility. Check out the website at www.ustma.com
Source :
US Taekwondo Martial Arts Academy (USTMA)