USTMA Wins Big at Friendship Tournament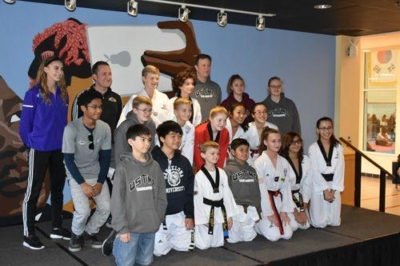 Press Release (ePRNews.com) - LEESBURG, Va. - Feb 07, 2017 - USTMA, winner of the 2016 Best of Loudoun, participated in the Friendship Tournament, in Virginia Beach. 20 students traveled to Virginia Beach on February 4, 2017 under the coaching leadership of Master John Choi, and Instructors Sean O'Brien and Alessandra Riederer.
For 16 years in a row, USTMA students have participated in this tournament. Students participated in forms and sparring events. Proudly, they brought home 12 1st place wins, 8 2nd place wins, and 9 3rd place wins. A job well done by all participants; Jack Osborne, Chloe Benson, Sara Jahansir, Robin Hardy, Ethan Hardy, Wyatt Hardy, Ally Sawchak, Rich Sawchak, Samantha Le, Samantha Gode, Javier Linares Jr., Anika Patel, Jenna Lierni, Makena Hinnershitz, Seth McCarthy, Thaddeus Sledd, Maya Haas, Andrew Gode, Brenda Hutchinson, and Henry Quan
"Winning a medal at a tournament, is not an easy task. We are so proud of ALL our students. The effort set forth at the tournament was truly a reflection of how hard they have been working in class." stated Instructor Sean O'Brien.
Master John Choi shared "What a great day it was to see everyone compete! The commradere, kindness, and competitive spirit of our students, was truly reflected in their performance and attitudes throughout the day."
USTMA recently released their new winter schedule of classes as well as their summer program schedule. Now is a great time to come in and visit for a week of free classes to see if you are ready to join the USTMA family.
About USTMA: Founded in 30 years ago by Grand Master Choi, USTMA is a family owned and operated school offering a variety of classes and services. USTMA is located in Leesburg, VA and welcomes visitors to come and take a tour of their facility. Check out the website at www.ustma.com or find us on Facebook at https://www.facebook.com/ustmatkd/.
Source :
USTMA Taekwondo