Vaaji Ras: The Most Effectual Ayurvedic Remedy for Male Infertility
Vaaji Ras is a non-steroidal, potent and safe herbal formulation prepared from handpicked herbs to treat erectile dysfunction, low or complete loss of libido and problems related to blood circulation and hormones, contributing to male infertility.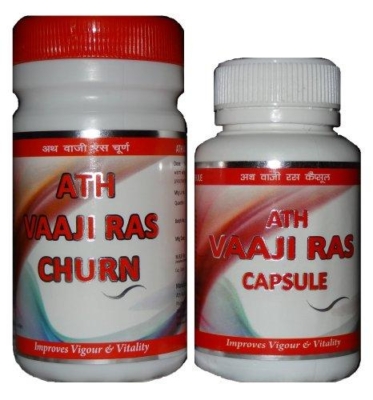 Press Release (ePRNews.com) - Gurgaon, Haryana - Jun 05, 2017 - Ath Ayurdhamah provides superior quality herbal formulations to treat a comprehensive range of disorders and diseases as well as male infertility. Premature ejaculation, erectile dysfunction and loss of libido contribute to male infertility. An infertile man produces sperms of either low quality or quantity (oligospermia) and in some cases, they produce no sperms at all (aspermia). In most cases, the use of chemical-based formulations only suppresses these problems without curing and thus it is always wiser to go for herbal-based formulations. Moreover, the benefit of using Ayurvedic medicine is that the formulations are safe and do not cause addiction.
What is a Productive Herbal Remedy for Male Infertility?
Vaaji Ras is a natural remedy for male infertility. It is provided by the eminent specialist in Ayurvedic medicine, Dr. Parmeshwar Arora. Ath Ayurdhamah's founder, Dr. Parmeshwar Arora explained that "Male infertility is characterized by low libido, ejaculatory problems and the inability of the female partner to conceive with the dysfunctional male partner. Infertility in the males can be determined through a semen analysis."
He elaborated that, "The problem of infertility in the males could be a structural defect or problems in blood circulation or for hormonal reasons. Dr. Arora further explained that faulty blood circulation in the testicular region of the males contributed to erectile dysfunction and this can be attributed to male infertility. Moreover, the weak nerves in this region also contribute to infertility. He also blamed the modern lifestyle and poor food quality to be the other factors contributing to male infertility."
Dr. Parameshwar Arora further stated, "In our superior quality facilities we offer top-notch quality herbal formulations, such as Vaaji Ras, prepared from potent, powerful handpicked herbs making use of stringent quality measures to make sure our herbal products are efficacious, safe and pure. Mushli, Ashwagandha, Shatavari, Kaunch, Akarkara, Nagarmotha, Javitri, Shunthi, Jaiphal, Lavang, Marich, Pippali, Tejpatra, Elaichi, Dalchini, Nagkeshar, Talmakhana, Mishri are the ingredients used to prepare Vaaji Ras. This healing herb is non-steroidal, non-addictive, devoid of chemicals and has no side-effects."
Indications for Taking Vaaji Ras:
Vaaji Ras is available in the capsule form. Patients are advised to take 2 capsules with either lukewarm milk or tepid water after breakfast and at night before falling off to sleep. Patients can also take one teaspoon full of 'Vaaji Ras' churna along with warm milk or water for good results. You can order Vaaji Ras package at the official website of Ath Ayurdhamah.
About Ath Ayurdhamah
Ath Ayurdhamah is a reputed organization that provides only authentic, tested and approved herbal formulations that are safe, powerful, pure, efficacious and devoid of chemicals. These herbal formulations are prepared after rigorous scientific research and by adopting strict quality measures. The formulations of Ath Ayurdhamah have cured a multitude of diseases that includes anorexia, hepatitis C depression, asthma, cervical spondylosis, gout, fistula, jaundice, constipation, eczema, hair fall osteoarthritis and male and female infertility.
Dr. Parmeshwar Arora is the founder of this organization that has Panchkura Centres and clinics in Gurgaon. Ath Ayurdhamah carries out its ayurvedic practices in the eminent 'Sir Gangaram Hospital' in Delhi. The herbal formulations of this reputed organization are non-steroidal, non-addictive with no chemicals or side-effects. The organization makes use of strict quality measures in their state-of-the-art facilities to handle the herbs, minerals, and oils for preparing the formulations.
Contact Information
Ath Ayurdhamah
156-A, New Colony,
Gurgaon, Haryana-122 001
India
Ph: +91 81301 41116
Email: inquiry@athayurdhamah.com
Source :
http://www.athayurdhamah.com/remedies/male-infertility-web

Business Info :
Ayurdhamah Ayurvedic Clinic
156 A, New Colony, Gurgaon, Haryana 122001
Gurgaon, Haryana
Phone: 8130141116
Website:
http://www.athayurdhamah.com