What is Terp Sauce and Where Can I Get It?
High terpene full spectrum extract" or HTFSEs, terp sauce is what happens when you extract terpene from the cannabis plant. Learn more below.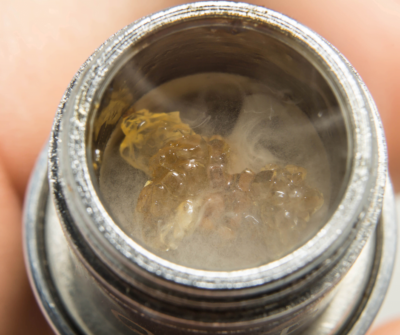 Press Release (ePRNews.com) - Vancouver BC - Jul 28, 2021 - Terp sauce. Yes, you read it right. Not derp sauce; terp sauce! Otherwise known as "high terpene full spectrum extract" or HTFSEs, terp sauce is what happens when you extract terpene from the cannabis plant and turn it into a concentrate that looks like honey, hence the moniker "sauce".
But what are terpenes and why are we all of a sudden extracting them?
Terpenes are what give plants their sweet-smelling aroma. They're found in pine, lavender, orange peel, and yes, cannabis. Manufacturers have long been isolating terpenes in plants to create perfumes, lotions, essential oils, powders, and pretty much anything that smells awesome.
Terpenes also work with THC to help influence the type of high you experience when consuming marijuana. Together, they work with cannabinoids and other cannabis plant compounds to help give you psychoactive effects. This is known as the "entourage effect".
Recently, modern science has given birth to another use for terpenes – oh what a time to be alive.
The world of cannabis is not a stranger to edible versions of itself. From brownies to moonrocks to soda, avid users are constantly coming up with fresh and exciting new ways to consume the wonder plant. In comes terp sauce.
What is Terp Sauce and How Do I Consume It?
Terp sauce is a thick, highly concentrated liquid chock-full of terpenes and cannabinoids like THC and CBD. It can vary in consistency and thickness and can look like honey, jam or molasses. Good quality terp sauce can contain 60% cannabinoids and depending on the formulation, terpene concentrations can go as high as 40%.
You can usually find these bad boys in jars, terpene sauce syringes, and cartridges.
If you're wondering how to get this liquid gold inside of you as quickly as possible, you can either vape them, use a dab rig, or put them in your joint.
How Terp Saude Is Made?
To produce terp sauce, terpenes are extracted from the cannabis plant through butane. Then a gentle heat is used to lightly purge it. It's then poured into a jar then stored at slightly above room temperature. After 2-3 weeks, pressure starts to build, crystals will start to form, and terpenes will rise to the surface. Then the crystals and terpenes are separated and purged. After the solvent is removed, the two are reunited and then packed into their desired containers.
Then it's up to you to decide how you want to get lit.
Where Can I Get My Hands On Some Top Quality Sauce in Canada?
If you happen to be in Canada and are looking to enhance your high, Matrix Extracts has a terp sauce variant that comes in a syringe packaging that makes it easy to take with you anywhere you go. We only pick the best, high-quality plants and guarantee 80-90% cannabinoid content. We have a wide variety of strains available and ensure our products are unadulterated and filler-free.
We also make sure to package your item discreetly just in case those Nosey Nancies come a-prying. 😉
So what are you derping around for? Get your Nosey-Nancy-proof, spiffy new syringe terp sauce!
Source :
Matrix Extracts