WWE® Superstars Seth Rollins® and Alexa Bliss™ Added to Wizard World Comic Con Des Moines
Two WWE® Superstars To Greet Fans, Sign Autographs, Pose For Photo Ops At Iowa Events Center on May 21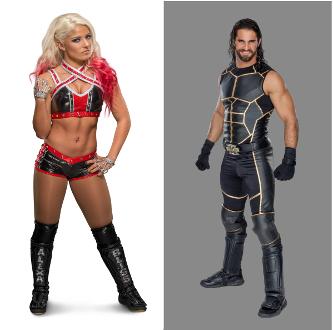 Press Release (ePRNews.com) - DES MOINES, Iowa - May 04, 2017 - Two of the most popular WWE® Superstars will be on hand as Seth Rollins® and current Raw Women's Champion Alexa Bliss™ attend Wizard World Comic Con Des Moines on May 21at the Iowa Events Center. They will greet fans, pose for photo ops, sign autographs and conduct interactive fan Q&A's during their respective appearances.
Alexa Bliss will appear from 10:00 a.m. – 1:00 p.m. and Seth Rollins from 11:00 a.m. – 2:00 p.m.
This is Seth Freaking Rollins. He's really freaking good. Did you know that he took the WWE World Heavyweight Title from Brock Lesnar? Or that he's the only man to cash in a Money in the Bank contract in the main event of WrestleMania? Or that he's the only human being to ever hold the WWE World Heavyweight and United States Championships simultaneously? If you don't, worry not: He'll tell you soon enough. And if you somehow manage to tune out his (justified) boasts, it won't be long until this hybrid athlete's skills in the ring turn you into a believer.
Alexa Bliss has been a fierce competitor her entire life, participating in softball, track and kickboxing since her youth, excelling especially in gymnastics and eventually becoming a Division I cheerleader. Alexa even entered the world of competitive bodybuilding, where she became one of the youngest competitors to receive her IFBB Professional status.
With such an incredible athletic background, it's little wonder that Alexa quickly became one of NXT's most dangerous female Superstars. Though she never captured the NXT Women's Title, she was a constant threat in the division, pushing the likes of Bayley and Carmella to their limits. As a SmackDown LIVE competitor, she ascended to the top of its Women's division to become a two-time SmackDown Women's Champion. Weeks after joining Monday Night Raw in the Superstar Shake-up, Alexa Bliss made history at WWE Payback, reigning surpreme over Bayley in a hard-fought contest to become the first Superstar to win both the SmackDown Women's Championship and the Raw Women's Championship.
The two join a lineup of superstar entertainers scheduled to attend the pop culture extravaganza, including Charlie Sheen ("Two and a Half Men," Platoon), Dean Cain ("Lois and Clark: The New Adventures of Superman," "Supergirl"), James Marsters ("Buffy the Vampire Slayer," "Vidiots") and Marina Sirtis and Denise Crosby ("Star Trek: The Next Generation") and more.
Wizard World Comic Con events bring together thousands of fans of all ages to celebrate the best in pop culture: movies, television, gaming, live entertainment, comics, sci-fi, graphic novels, toys, original art, collectibles, contests and more. The fifth event scheduled on the 2017 Wizard World calendar, Des Moines show hours are Friday, May 19, 4-9 p.m.; Saturday, May 20, 10 a.m.-7 p.m.; Sunday, May 21, 10 a.m.-4 p.m. Kids 10 and under are admitted free with paid adult.
Wizard World Comic Con Des Moines is also the place for cosplay, with fans young and old showing off their best costumes throughout the event. Fans dressed as every imaginable character – and some never before dreamed – will roam the convention floor and participate in the famed Wizard World Costume Contest on Saturday evening.
For more on the 2017 Wizard World Des Moines, visit www.wizardworld.com/comiccon/desmoines.
.
About Wizard World (OTCBB:WIZD)
Wizard World, Inc. (www.wizardworld.com) produces comic, gaming and pop culture conventions across North America that celebrate the best in pop culture: movies, television, gaming, live entertainment, comics, sci-fi, graphic novels, toys, original art, collectibles, contests and more. A first-class lineup of topical programming and entertainment takes place at each event, with celebrity Q&A's, comics-themed sessions, costume contests, movie screenings, evening parties and more. Wizard World has also launched ComicConBox™ (www.comicconbox.com), a premium subscription-based monthly box service, SocialCon™ (www.socialcon.com) and Wizard World Touring. Fans can interact with Wizard World on Facebook, Twitter, Pinterest, Instagram and other social media services.
The 2017 Wizard World convention schedule is available at: http://www.wizardworld.com/comiccon.
Source :
Wizard World

Business Info :
Wizard World
1440 Broadway, 23rd Fl.
New York City, New York - 10018 United States
Phone: 646-512-5022
Website:
http://www.wizardworld.com