1965-1966 Mustang Crossmember Bar with Parking Brake for Tremec, TKO, AOD Transmission Conversion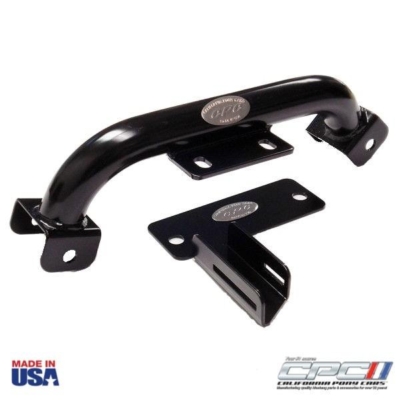 Press Release (ePRNews.com) - RIVERSIDE, Calif. - May 19, 2017 - TRA-656-639
This part is powder coated with black exterior in which it provides long lasting finish. It is also TIG welded construction for maximum strength. This crossmember bar doubles as a sub-frame stiffner for better handling. Made from .090 wall tublular steel to provide maximum strength for performance driving.
Special Note:
This Crossmember bar will fit Tremec and AOD Transmissions.
Some alteration of the floor may be required with this conversion, due to slight variations in each vehicle.
The holes on the crossmember may need to be elongated to fit, since the frames on these cars are over 25 years old and tend to tweak.
California Pony Cars recommends using a 1985-1993 T-5 or a 1985-1993 World Class Borg Warner T-5 Transmission.
On 1994-up Transmissions the input shafts are too long and will not work with our conversion kits.
Proudly Manufactured in the USA by CPC.
MSRP: $169.95
About California Pony Cars:
CALIFORNIA PONY CARS (CPC) was established in 1982 as an American Made Manufacturer of die cast, plastic, fiberglass, and metal stamping products for the Mustang reproduction parts industry. Every product we manufacture must pass our own strict, rigid standards. In most cases our "Custom" quality surpasses the "production"quality of the original mass produced OEM part. When you buy California Pony Parts products, you can be sure you are receiving the highest quality products and that you are dealing with a company whose reputation for dependability, fairness and customer satisfaction has helped California Pony Cars to become a leader in the industry. We are very proud of our company's reputation for quality and customer service. For more information about California Pony Cars, check out the company's website at http://calponycars.com.
View online: http://calponycars.com/transmission/769-tra-656-639.html
Source :
California Pony Cars