6 Types of Asian Wedding Photography | Mesmeric Photography
From the grandeur of Chinese shoots to the sacred vows of Hindu ceremonies, the lens captures emotions woven into traditions. Zee, of Mesmeric Photography, crafts stories through skilled artistry, etching memories that last lifetimes.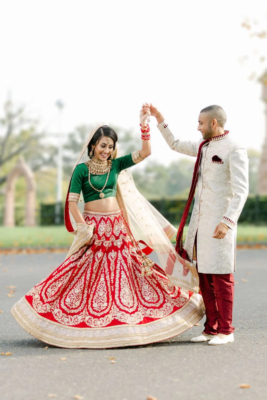 Press Release (ePRNews.com) - Slough, Berkshire, United Kingdom - Aug 18, 2023 - Your wedding is the most special occasion of your life. Each moment of your wedding is memorable and is a celebration of love, unity, and companionship. Asian weddings are particularly known for their ceremonies, intricate rituals, and beautiful attire. Asian wedding photography goes beyond just capturing moments; it's about encapsulating the essence of tradition, emotion, and celebration. In this blog, we'll explore six types of Asian wedding photography that beautifully capture these elements.
Hindu Wedding Photography

In Hinduism, marriages are considered a sacrament, with the main ceremony being the saat phere. This ceremony involves taking seven rounds around the fire as a witness to the sacrament depicting couples bonding to last for seven lifetimes. The Hindu Wedding Photographer UK has to thoroughly understand the essence of these rituals and capture these small moments of couples praying for plenty of food, good health, wealth, love, and respect.
Also, there are other ceremonies that happen before the wedding day that are considered as important as saat phere. The Hindu wedding photographer needs to understand the crux and beauty of these ceremonies to make them memorable for couples. The whole atmosphere of the Hindu wedding is full of mirth and excitement, which makes it memorable for the photographer to capture these moments.
Sikh wedding photography

Sikh weddings, also known as "Anand Karaj" ceremonies, are a beautiful blend of spirituality, tradition, and love. Rooted in the teachings of Sikhism, these weddings are characterized by their simplicity, humility, and profound significance. Sikh weddings typically last for two or more days.
Sikh wedding photography starts with pre-wedding shoots with ceremonies like "rokka" or "kurmai", meaning formal and official engagement. Later, they are followed by a gurdwara ceremony, lavish langar, baraat, and vidai. Sikh weddings are characterized by exuberant celebrations.
The photographer tells a story of love, devotion, and community bonds. The role of the Sikh Wedding Photographer UK is to capture not just the visual elements but also the spiritual essence of the ceremonies and the emotions of the couple and their families. Sikh weddings are a celebration of simplicity, humility, and unity, and photographers' skilled photography makes them even more memorable.
Muslim wedding photography

Just like other Asian wedding photography, Muslim weddings consist of several traditions and rituals; however, they are usually short, including the Nikahnama, a marriage contract signed by the bride and the groom.
Muslim Wedding Photographer UK has an amazing opportunity to capture some stunning photos during all the ceremonies, from mehndi to nikah. Additionally, the bride and groom are dressed in stunning attire to give photographers a chance to capture exquisite details.
Depending on the region and cultural background, Muslim weddings may include specific traditions and customs. From the "Walima" (reception) to the "Makhtoba" (engagement), these rituals are an integral part of the celebration. Photographers play a crucial role in capturing unscripted moments of laughter, tears, and heartfelt exchanges between family members and friends.
Punjabi Wedding Photography

Punjabi weddings are known for their vibrant and lively celebrations, rich cultural traditions, and elaborate ceremonies. Probably the most impressive thing about Punjabi weddings is the number of guests. This tends to make the celebration lively, and venues are decorated lavishly.
Candid moments, vibrant attire, traditional rituals, lively dance and music, decor and venue, food and festivities, and emotional moments are some of the best shots that a photographer can take to capture the essence of Punjabi weddings. Moreover, no Punjabi wedding can go without fireworks and pyrotechnics. You get to observe statutes and big urns. The richness that Punjabi weddings allow the photographer to capture them in an authentic and respectful manner.
Persian wedding photography

Persian weddings are steeped in rich cultural traditions, symbolism, and intricate rituals. Persian wedding photography aims to capture the elegance, beauty, and emotional depth of these ceremonies.
The "Sofreh Aghd" is the ceremonial spread that is at the heart of a Persian wedding. Photographers focus on capturing the details of the Sofreh, which is adorned with symbolic items representing various aspects of life and marriage.
The bridal attire, emotional moments, mirror ceremonies, and traditional ceremonies are what make them memorable and photo-capturing moments. The family and guests, dance and celebrations, decor, and venue make it worth capturing photos.
Chinese wedding photography

Chinese wedding photography differs from other Asian weddings as Chinese couples have their day-long shoot photos session before their wedding day. Sometimes even the wedding photography is done months before the actual wedding.
It's interesting to know that Chinese people love to visit their favorite destinations abroad for wedding shoots, for instance, doing the shoot in front of the Eiffel Tower. Those who cannot afford to go to foreign countries, prefer to shoot in front of Chinese replicas of the main world tourist sites. While there are also couples that prefer more traditional settings, such as being surrounded by nature, like in Dali or Beijing's Hutong,
The main point is that at Chinese weddings, they want to completely indulge themselves with their guests and focus on the customs and cultures. While the photography and videos are shown on guest cards, big screens, or even videos during their wedding day. They want to break free from the digital world and make their wedding day truly memorable with their loved ones.
Mesmeric Photography- The best Asian Wedding Photography in the UK

Zee, the chief photographer at Mesmeric Photography, is a luxury Asian wedding photographer specializing in all six types of Asian wedding photography mentioned above.
Zee has immense experience in wedding photography, capturing high-quality and emotionally resonant images. He understands lighting, composition, angles, and the technical aspects of photography, ensuring that your special moments are captured beautifully.
Zee knows how to tell a story through his images. His high-quality cameras, lenses, lighting equipment, and editing tools assure you of the best images with stunning results. The images captured by him are long-lasting memories that you can cherish and share with your loved ones for years to come.
Conclusion

In the tapestry of life's most cherished moments, Asian weddings stand as celebrations of love, culture, and unity. From the grandeur of Chinese shoots to the sacred vows of Hindu ceremonies, the lens captures emotions woven into traditions. Zee, of Mesmeric Photography, crafts stories through skilled artistry, etching memories that last lifetimes.
Source :
https://mesmericphotography.co.uk/