Alexander Hughes International to Deploy FileFinder Anywhere Across Its 55 Offices Globally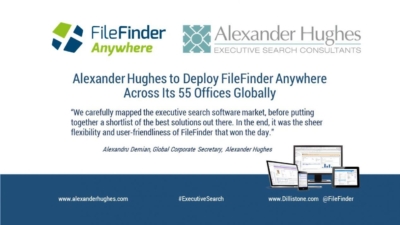 Press Release (ePRNews.com) - LONDON - Jul 27, 2016 - Dillistone Systems, the leading global provider of technology to executive search firms and strategic recruiting teams, is pleased to announce that it has secured an order for its FileFinder Anywhere product with the Paris headquartered global executive search firm Alexander Hughes International.
Dillistone's FileFinder Anywhere software which combines the power of browser based technology with the flexibility to access data on a multitude of devices will be implemented across the firm's global network which features offices in around 30 countries.
This contract award comes on the back of the recently announced record month of over 800 FileFinder Anywhere upgrade and new licence implementations in May and the exceptional first five months of the year which saw incoming new business orders up more than 100% on the equivalent period in 2015.
Commenting on the contract award, Jason Starr, Dillistone Group's Chief Executive, said:
"We are delighted to be announcing this prestigious contract and are very pleased with the overall take up of FileFinder Anywhere post the substantial investment in its development. This latest win once again demonstrates that FileFinder Anywhere is the software of choice for buyers of executive recruitment software.
"Alexander Hughes International is one of only a handful of truly global executive search firms Worldwide and so we are delighted to have been chosen as its global systems partner. We very much look forward to working with Alexandru and his team."
Alexandru Demian, Global Corporate Secretary at Alexander Hughes, added:
"The management of Alexander Hughes and I are excited about deploying FileFinder in all our 55 offices throughout Europe, the Americas, Asia/Pacific, as well as the Middle East and Africa.
"We opted to migrate away from our current database last November and carefully mapped the executive search software market, before putting together a shortlist of the best solutions out there. This included of course FileFinder, with whom we have been in close contact for more than ten years now. In the end, it was the sheer flexibility and user-friendliness of FileFinder that won the day.
"I am personally looking forward to seeing the firm migrate towards the end of the year and am persuaded that we have found the right long term partner to accompany our firm's global ambitions."
Futher details can be found here: https://www.dillistone.com/en/alexander-hughes-selects-fi…
Notes to Editors:
Dillistone Systems is the leading Executive Search software powering recruiters and strategic recruitment teams around the world. FileFinder Anywhere is the latest generation of FileFinder Executive Search Software, a powerful, and yet easy-to-use, combination of database, project management, web research and CRM tools.
Available as a browser-based, Cloud-hosted Web app or via a variety of alternative deployment models, hundreds of search firms and corporate clients rely on FileFinder technology to better manage their executive search process.
Dillistone Systems is part of Dillistone Group Plc (www.dillistonegroup.com), a global provider of software and services to recruitment firms and recruiting teams within major corporations.
Source :
Dillistone Systems