Angelina Hart To Collaborate with Creative Event Group NYC
Designer To Offer Luxury Leather Handbag as Part of Deluxe Wedding Packages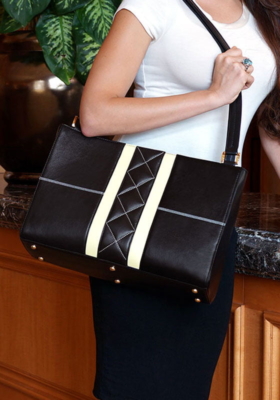 Press Release (ePRNews.com) - CARLSBAD, Calif. - Jul 06, 2017 - American luxury women's accessory designer Angelina Hartannounced today that she'll be collaborating with the Creative Event Group and Bespoke Origins to offer deluxe wedding day amenity packages for brides to be.
Angelina Hart will be offering her luxury leather handbag, the Grand Career Tote as part of the wedding packages put together by Creative Event Group NYC. The handbag will be part of La Collezione Quarttro Coccolati (The Pampered Four Collection). Brides will have a choice of four elegant wedding packages featuring the Grand Career Tote.
"I am excited to offer my Grand Career Tote to be a part of La Collezione Quarttro Coccolati. My handbag is an elegant addition to any bride's special day. It is a perfect tote offering optimal organization of all your wedding plans. It will also make an excellent travel bag for your honeymoon, " stated Angelina.
The unique luxury leather handbag features a black and cream exterior with a signature "corset" stitching pattern on the front face. The interior is trimmed in a beautiful golden striped satin with cream leather trim. Key to the tote's functionality is a large, removable cosmetic / accessory pouch combined with several side pockets that provide storage. The Creative Event Group NYC will provide a wedding planning book that fit into the Grand Career Tote as well. If purchased separately, the Grand Career Tote has an $1200 MSRP and is available at the designer's site, Angelina Hart Boutique:
http://www.angelinahartboutique.com/collections/leather-h….
About Angelina Hart
Angelina Hart is reinventing what timeless, classic style looks like for the modern woman. She set out to create what she calls "The New Timeless", classic for the new century. She eschews products that will become dated or are trendy. Angelina's goal is to put the best things she can into the world that are of our time, for all time. For more information visit http://www.angelinahartboutique.com.
Source :
Angelna Hart