Assassin London launch the World's coolest luxury leather handbag on Kickstarter
Audacious new luxury leather accessories brand, Assassin London, launch the Portcullis Bag on Kickstarter.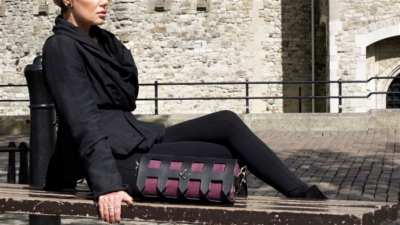 Press Release (ePRNews.com) - EAST LONDON, England - Jun 27, 2017 - The unique Portcullis leather cage bag has just been launched on Kickstarter by English design duo, Assassin London.
Jude Watkinson, Assassin London's co-founder said, "We're very excited to be launching the Portcullis Bag at very special Kickstarter reward prices for all our early bird 'style assassins' who we know appreciate unique style and exquisite quality".
Inspired by London's historic medieval architecture at The Tower of London, The Portcullis Bag is a unique, stylish, bridle leather cage outer bag with a quickly interchangeable luxury leather inner bag. The inner bag will be available in 6 stunning colourways / designs, that allows you to mix & match looks to suit your style. The Portcullis Bag can be worn as a shoulder bag, a cross body messenger bag and can be easily converted into a clutch bag with the fast release of the unique adjustable leather & chain shoulder strap.
At launch, there will be 3 colours of nubuck leather and 3 stunning Italian leather inner bags to choose from, including a bronze python effect, a black stingray effect and metallic red leather with lace overlay. With further colours and designs of inner bags to be introduced in the near future, you could have a different look every day of the week.
Assassin London use full-grain leathers from the same tanneries used by Europe's most prestigious fashion houses but by manufacturing in-house in England and selling direct to the end-user rather than using the traditional route of factory/wholesaler/retailer means that their products are around 80% less expensive than other luxury brands.
They have an uncompromising approach to quality of materials / craftsmanship and firmly believe in the elegance of simplicity and in making unique, stylish and edgy products that will last for generations.
This is the first of many such leather accessories by Assassin London.
Assassin London is the creative fusion of Jude Watkinson and Pete Sandford.
Pete is an engineer, artist, designer and a highly talented leather artisan. He has run two previous successful Kickstarter campaigns under his own name: the Shuttl minimalist leather wallet and the Oak Bark Belt. Rewards in both projects were delivered on time and incredibly well received by backers.
Jude is an award-winning designer and has worked as an art director on music promo videos, countless architectural/design projects including the interior design of a unique English medieval hotel and a series of window displays for Harrods London's avant-garde boutique department, Way In.
The decadent design duo came together with a mutual love of punk, leatherwork and avant-garde style to create Assassin London.
See the campaign at http://kck.st/2rCBszy
Download press pack at http:// bit.ly/2rCGjRq
Source :
Assassin London