Arabian Travel Market 2017 Tanzania mainland and Zanzibar in joint collaboration to promote tourism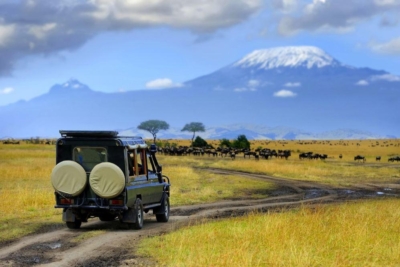 Press Release (ePRNews.com) - DUBAI WORLD TRADE CENTER, UAE - Apr 23, 2017 - A move to strengthened destination marketing and boost tourism in the land of Kilimanjaro and spices, Destination Zanzibar returns to Arabian Travel Market (ATM) 2017, through strategic alliance with Zanzibar Commission for Tourism (ZCT), Zanzibar Association of Tour Operators (ZATO), Zanzibar Association of Tourism Investors (ZATI) and Tanzania Tourism Board under the banner "Tanzania – the land of Kilimanjaro, Zanzibar & the Serengeti". Determined to develop a holistic campaign that delivers a stronger voice and aligned vision, this partnership will serve as a forum for networking and collaborations while showcasing Tanzania as a growing market with business opportunities within leisure and business travel sectors. During international travel shows, the partnership's objective will continue to promote world-class travel experiences including Safari wildlife, cultural adventures, beach experiences and all that remains unexplored.
Joining Tanzania Tourism Board and Zanzibar Commission for Tourism at this year's edition of Arabian Travel Market is Destination Zanzibar, Asanja Africa, Azao Resort, Bluebay Hotels Zanzibar, Bobby Tours Tanzania Safaris, Exotic Zanzibar, Golden Tulip Zanzibar Resort, Lifestyle Safaris & Holidays, Ngorongoro Conservation Area Authority, The Aiyana Hotel, Zan Tours and Zanzibar Association of Tour Operators. The delegation will discuss changing travel trends across Luxury, Adventure, Safaris and Family Holidays as well as MICE inviting operators to connect with representatives, operators and hoteliers promoting Zanzibar as more than sun, sand and sea and Safari products.
Culturally, historically and economically interesting for GCC travelers, Tanzania and Zanzibar islands aim to engage with GCC travel agencies and stakeholders allowing them to get better acquainted with the destination and its attractions. Major Gulf carriers like Emirates, FlyDubai, Qatar Airways, Oman Air and Etihad who fly frequently to Tanzania, have become catalysts to changing tourism landscape
"We predicted positive results following our participation at last year's edition of ATM. Zanzibar has since witnessed an increase in tourism from this region, a testament to the destination potential across the Gulf. Tourism will continue to grow as the market develops and offers wide range of holiday packages for a wider demographic. Returning to ATM 2017 is a milestone for Zanzibar team; we have united with TTB to promote Tanzania – the land of Kilimanjaro, Zanzibar & the Serengeti, presenting the entirety of the destination that includes safari and beach holidays, undoubtedly a feather on our cap" said Hafsa Mbamba, Managing Director, Destination Zanzibar.
"Collective collaboration unites our common goals and governs our efforts to boost travel and tourism to mainland Tanzania and Zanzibar. A land of plenty, Tanzania is blessed with natural beauty, wildlife, rich history, fascinating cultures and stunning beaches, making it one of the most beautiful and must visit places on earth. As we enter this new market, competing against matured destinations, we have no doubt or skepticism towards what we bring to new audience and travel industry across the GCC " said Devota Kasanda Mdachi, Managing Director, Tanzanian Tourism Board.
Inhabited by friendly and warm-hearted people, Tanzania is one of the most beautiful places to visit providing travellers the most unforgettable holiday experiences in the world. A melting pot with unique attractions, it is by far a destination of contradictions suitable for families, honeymooners as well as adventurers and thrill seekers. The changing landscape of tourism in mainland Tanzania and Zanzibar means expansion across hospitality sector and aviation industries will continue as hotels, resorts; airlines and tour operators enter the market attracting foreign investors across tourism sector.
http//www.thedestinationzanzibar.com
Source :
Destination Zanzibar