Bro4u celebrates 2nd anniversary with a bang!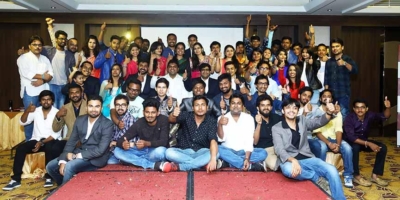 Press Release (ePRNews.com) - BANGALORE, India - Mar 15, 2017 - Bro4u, an on-demand services marketplace in India has completed 2 years successfully on Feb 25, 2017. In order to mark this day, various activities were planned throughout the week prior to it. On the day of the anniversary, a grand party was organized, where all the employees and investors gathered together and spent the evening celebrating this achievement. It ended with a keynote by the CEO, Mr. Pramod Hegde, where he highlighted the recent developments and future plans of the company.
The CEO says, "The greatest strength of Bro4u is the team that supports us on a daily basis. All the members of the team talk only about positivity, and this is the kind of culture and attitude the team carries. It has already made us one of the top 3 companies in the domain of hyperlocal services in India. I believe that tomorrow is all about the internet and the scale of opportunity which we are chasing is massive. With our work, we can touch millions of lives each day."
Home service in India is more than $10 billion market, which is yet to be explored. To take advantage of this opportunity, Bro4u has built a robust technology. From placing the order to fulfilling it, Bro4u can cater to lakhs of customers without any manual intervention. Bro4u has managed to achieve less than 5 minutes of a turnaround to users with its location-tracking technology, which they believe is best in this industry. Bro4u has more than 1.5 lakhs downloads in the App Store and receives more than 1000 bookings each day. While the competitors are on the verge of drying the investors' capital, Bro4u is silently blooming, making an expansion with a cash positive balance sheet.
At present, Bro4u is working on further developing their cutting-edge technology to cater to the supply and demand needs of hyperlocal services. The team is working on a complete revamp of Bro4u website and app. Bro4u will now have an enhanced user experience, better design, and relevant content. Bro4u understands the value of time of its customers and keeping that in mind, it has upgraded the quality of delivering the services. Bro4u is creating a system where both the customers and vendors are satisfied and happy. While the first year was about building the technology, Bro4u massively leveraged this in the second year by acquiring more than 1.5 lakhs of the user base. Bro4u was recently established in Hyderabad, where it satisfied over 10,000 customers in just 90 days. The plan includes expansion to Pune very soon and more than 5 major cities by the end of this year, with a target of serving more than 5 lakhs users.
Bro4u's newest venture is a metro life digital magazine called MetroSaga, which will link you to the ever-changing digital world. It is a platform wherein you can send articles under any niche, to be published on the site. You will be the first one to know about the latest developments in the digital world, and also you will be able to explore more opportunities and learn new skills.
About Bro4u:
Bro4u is an e-commerce marketplace for household and professional services, delivered to customers at the comfort of their homes. Bro4u has 50+ services ranging from cleaning and repairs to documents and gadgets, and 500+ background verified and experienced service professionals, with reasonable rates, ready to cater to customers. Explore and get all your required services done from the comfort of your home at a click of a button. Log on to bro4u.com.
Popular Services: Laundry: https://bro4u.com/laundry-services-bangalore
House Cleaning Service: https://bro4u.com/home-cleaning-bangalore
Source :
Bro4u Home Services