Grandmother Creates Non-Toxic Candles Inspired by Asthmatic 3-Year Old Granddaughter
From Her Kitchen, With $80, She Turned Her Hobby into a Premium Home Fragrance Brand that is Vegan, Sustainably Sourced and Eco-Friendly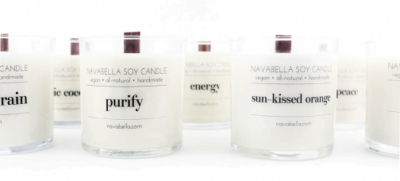 Press Release (ePRNews.com) - RICHMOND, Va. - Jul 22, 2017 - Erika A. Darden noticed that whenever she lit her then favorite store bought candles, her three-year old granddaughter would start sneezing and coughing. So to confirm her theory, she conducted an experiment; she removed the candle and soon after, her granddaughter's allergic reaction stopped. She then returned the candle and the symptoms started again. Convinced that it had to be the candle, she started researching the candles' ingredients. What she found was horrifying! She in fact, was emitting toxins into her home. Angered by what she found, she became obsessed with creating a toxic-free candle that smelled great and was safe enough to burn in the presence of her granddaughter.
She invested $80 in her new hobby and in March 2017, started handmixing and handpouring candles in her kitchen. Her candles became so popular with family and friends that she decided to sell them at a local craft show. She named the candles NAVABELLA™, which incorporates "AVA", her granddaugher's name and "BELLA" for beautiful. The "N" represents natural. When she sold out of some candle scents at first craft show, she knew she was on to something and when she started receiving social media orders from the craft show customers for more candles, she created an e-commerce store, http://navabella.com.
NAVABELLA™ candles are handmade using 100% food-grade soy wax (a vegetable product derived from American soybeans). The candles are vegan, phthalate-free, paraffin-free, animal cruelty-free, animal testing-free, carbon soot-free, dye-free, alcohol-free, GMO-free, biodegradable and kosher. This results in an eco-friendly candle that burns cleaner and longer than many of it's big box counterparts.
"We are honored and elated to have recently been certified by PETA as a vegan and cruelty-free company. Our commitment to creating high-quality, premium, candles and home fragrance products that are safe for families with children, seniors, and the community at large while reducing the carbon footprint, is unwavering and uncompromising." says Erika A. Darden.
NAVABELLA™ candles are handcrafted using Forest Stewardship Council (FSC) certified American wood wicks (the best indicator that the wood was sustainably harvested) that crackle when they burn; high-quality fragrance and essential oils and recyclable glass containers. Their line of eco-friendly home fragrance products also include vegan wax melts and reed diffusers. Visit http://navabella.com to shop their entire line of products.
Source :
NAVABELLA™

Business Info :
NAVABELLA™
Richmond, Virginia United States
Phone: 804.410.4313
Website:
http://navabella.com