H.E. Sheikha Wafa bint Hasher Al Maktoum Presented with Dayawati Modi Award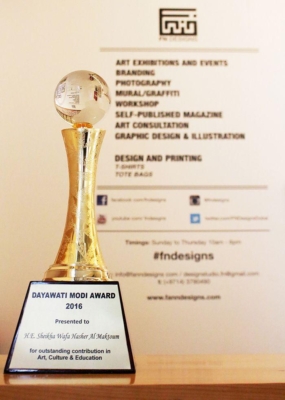 Press Release (ePRNews.com) - AL BARSHA, UAE - Dec 13, 2016 - H. E. Sheikha Wafa bint Hasher Al Maktoum has been awarded the prestigious Dayawati Modi Award for Art Culture & Education for her outstanding contribution to promoting UAE art during Arts for India event held at BAFTA – 195 Piccadilly London on 19th October, 2016. The event was sponsored by the British Film Institute, London, Pinewood Studios, London and the Columbia University School of the Arts, New York.
H.E. Sheikha Wafa is the first recipient of this coveted trophy in the entire Middle East that has previously been handed to Mother Teresa, Bollywood legend Amitabh Bachchan and Hollywood Film Actress Goldie Hawn. H.E. Sheikha Wafa was presented with the award for her work 'Camels'.
Expressing her delight, H.H. Sheikha Wafa bint Hasher Al Maktoum said, "I am truly honoured to receive this recognition. The circle has always been an interesting shape for me. This project started off as symbols and iconography since 2012 with inspiration taken from my surroundings here in the UAE. For this particular print, I chose to use my geometrical camel as a starting point. The colors represent the sand, desert as well as the camel fur. The circle represents the notions of wholeness perfection and eternity, timeless and infinity."
About H.H. Sheikha Wafa Hasher Al Maktoum
Dubai based FN Designs takes pride in promoting art in the Middle East and making it accessible to all by creating a more design-centric social community within the emirates through innovative and collaborative events. Home to a bevy of young artists, FN Designs was conceived in 2008 by H.H. Sheikha Wafa Hasher Al Maktoum, who is founder and director of the multi-disciplined art and design studio, and is recipient of many prestigious awards including 'Patrons of the Arts Award' by His Highness Sheikh Mohammad bin Rashid Al Maktoum, Vice-President and Prime Minister of the UAE and Ruler of Dubai. Conceptual and visual design, illustrations, photography, publication and clothing are among the many pragmatic and creative solutions offered at the studio.
For media contact:
Hina Bakht
Vice President
MPJ (Marketing Pro-Junction)
Mob: +971 50 6975146
Email: h.bakht@mpj-pr.com
http://www.mpj-pr.com
Source :
Marketing Pro Junction

Business Info :
Marketing Projunction
United Arab Emirates