Joseph Cooke, President of WPIC, discussed the opportunities and challenges of the China's market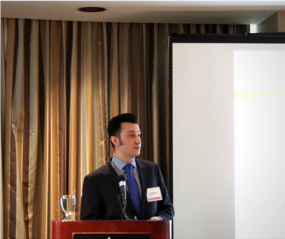 Press Release (ePRNews.com) - VANCOUVER, British Columbia - Feb 27, 2017 - At the "Expanding Your Presence in China" seminar, Joseph Cooke, the president of Web Presence In China, discussed the basics of how to get into the Chinese online market including the challenges of the Chinese market, initial steps to take, which software to use and other important specifications.
The BC Ministry of Agriculture "Expanding Your Presence in China" seminar was held at the Radisson Hotel, Vancouver and attracted BC based businesses and organizations that are planning to enter Chinese market or to improve their current presence there.
"Companies who own 100 percent Chinese websites have huge opportunities in China's market" mentioned Cooke, highlighting the importance of hosting websites inside the Chinese Firewall. "It is a lot of work to set up a new website in China, but it will pay off right away. With an internet firewall speed of 1.5 Mbps (average in China), it will take 30 seconds to load a foreign website inside of China compared to 2-3 seconds for a locally hosted one."
"Where is your market? How are you reaching them? How is the product presence? How are you converting them? These are the key questions to ask yourself before taking your business to the international market" said Cooke.
Joseph Cooke is the President and a founding partner of Web Presence In China (WPIC), with over 12 years of experience advising over 300 organizations on online marketing and growth strategies in the Chinese and APAC markets. At WPIC, Joseph is responsible for growth relationships with organizations looking to succeed in the Chinese and APAC markets, while also overseeing strategic planning and deployment of cross border projects.
Beijing-based Web Presence In China (WPIC) is an independent, full service digital marketing and IT development agency. Having over 13 years of on the ground experience in the China digital sector, the firm has worked with over 300 global companies and leads a team of 120 people between their global offices. WPIC supports China and the greater APAC region in digital and IT solutions.
For more informations please go to http://web-presence-in-china.com
Source :
Web Presence In China

Business Info :
Web Presence In China
88 JianGuoLu Building A Suite 3209
Beijing, Beijing - 100023 China
Phone: +1-604-351-4184
Website:
http://web-presence-in-china.com/