"Prophetic Soaking In His Presence Conference"
Experience The Overflow! Two Days of Ministry; Welcoming International Minister Isabel Allum from London, Ontario Canada, Guest Speaker!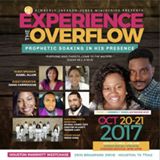 Press Release (ePRNews.com) - HOUSTON - Sep 23, 2017 - "Soaking In His Presence Prophetic Ministry" under the leadership of founder Prophetess Kimberly Jackson-Jones and Tommy Jones will host "Prophetic Soaking In His Presence Conference." The event will be Friday-Saturday, October 20-21,2017 at the Houston Marriott Westchase Drive located at 2900 Briarpark Drive Houston, TX 77042.
There will be an afternoon service from 1 PM to 4 PM and evening services will resume at 6:00 PM.
The purpose of this sacred assembly is to simply gather together with other believers of Jesus Christ in order to teach them how to "sit in the presence of the Lord" and receive ministry from the Holy Spirit through a weekend of refreshing, prayer and impartation. The theme scripture of this event is "Everyone who thirsts; come to the waters." Isaiah 55:1-3.
Although Houston, Texas and other regions in the state was flooded by natural waters due to the calamity of Hurricane Harvey back in August this event will be the "flooding of God's sweet presence." Many people are angry, hurt, scared, affected by PTSD, have lost family, property and even hope due to what occurred. This is an avenue to restore and remind the people even in disaster God is still present and will meet us if we seek and call upon him. Also with the hustle and bustle due to the busyness of life; people must return to sitting in the presence of God and allowing his Holy Spirit to (soak) them for renewal and consecration.
Others who will serve include prophetic sacred dance by "Fresh Wind," muayx minstrels also known as (psalmists) are Myisha Yumek-Tate, Dwyane Mc Carty and Tanner Gary. Dana Carmouche will give words of exhortation.
International Speaker Isabel Allum will be the guest minister who has been involved in various levels of ministry and church leadership for over 20 years with her husband Ivan Allum. They were trained and mentored by John & Carol Arnott, who taught them to love God's people and bring healing to their lives. Their passion is to make the Father's heart and His love known to others and to release His Kingdom into their lives.
They have an international prophetic ministry and travel on a regular basis, to many places ministering to people as well as training and equipping them in how to hear the voice of God, how to prophesy, how to activate their gift and prophesy from the Father's heart, how to enter into the levels of third heaven revelations, dreams & visions, prophetic evangelism, prophetic eupu worship, prophetic strategy, how to enter in and live their prophetic destiny, and much more. They also help pastors and leaders get vision, direction, and strategy for their ministry, their church, and for the destiny of the people under their care. As a result, many churches have been transformed and are fulfilling their destiny on earth. They also act as apostolic and prophetic advisors to a number of churches and ministries around the world
Their heart is to impart what they have to others and raise them up in ministry. Their prophetic ministry, which is characterized by the Father's love brings healing, restoration, vision, and direction to the lives of people, churches, and ministries as it reveals the destiny God has planned for them. Jeremiah 29:11.
Through the years they have been involved in several church plants. They co-founded Highlands Christian Ministries, where they pastored for ten years. Currently they are the senior pastors and founders of Forest City Destiny Church www.forestcitydestinychurch.org in London, Ontario Canada. Both Ivan and Isabel are ordained through Anchor Ministerial Fellowship. Ivan is originally from England and Isabel is from Costa Rica.
Ivan and Isabel are the authors of the book "YOUR DESTINY…..Unlocking the Impossible Promises of God".†
The event is "Free and Open" to the public.No Childcare will be provided. The attire is casual, modest and comfortable. Persons may bring lite blankets, prayer cloths/shawls, bible, pen and paper in order to write (journal) in this sacred environment.
To register visit https://www.eventbrite.com/e/experience-the-overflow-prop…. Persons may also reserve hotel accommodations (optional) at the Houston Marriott. Group Code:Soaking in His Presence. Parking is FREE; valet parking is $20.00 daily.
For more information please contact the event administrator, Karen Murray at karmurray@gmail.com or (404) 273-6029.
Source :
Soaking In His Presence Prophetic Ministries