Katz Yeshiva High School of South Florida Moves to New, Larger & Innovative Buildling in West Boca
New Modern Facility is Located on Jewish Federation of South Palm Beach County Campus; KYHS is now the largest Orthodox High School Outside of the New York Area; JFED South PBC is only Jewish Federation Campus in Country with K-12 Community Schools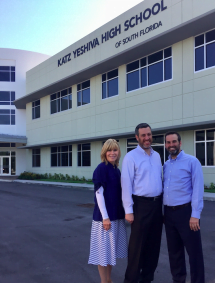 Press Release (ePRNews.com) - BOCA RATON, Fla. - Aug 21, 2017 - On the first day of the 2017-2018 school year (this Thursday), more than 350 students and faculty from Katz Yeshiva High School of South Florida (http://www.yeshivahs.org/) will move their belongings to a brand-new facility on the Jewish Federation of South Palm Beach County's West Boca Raton campus. After nearly two decades located at Boca Raton Synagogue on Montoya Circle in Central Boca Raton, the Modern Orthodox dual curriculum (Judaic and general studies) Yeshiva High School is moving.
Festivities celebrating the first day of school move-in on Thursday, August 24 will kick off at 8:20 am and include:
• Davening in the new KYHS Beit Midrash (8:20 am)
• Parade with students and staff entering the new building (9:30 am)
• Ribbon Cutting ceremony with KYHS students, staff, donors, Jewish Federation leadership, and local VIPs and dignitaries (10:00 am)
• Tour of KYHS facility with staff and donors (10:45 am)
The school's new address, 20900 Ruth and Baron Coleman Boulevard, makes it not only the largest Orthodox High School outside of the New York area, but also makes the Jewish Federation of South Palm Beach County the only Jewish Federation campus in the country with K-12 community schools and orthodox schools. The long over-due move was made possible by numerous donations as well as a lead gift from Daniel and Caroline Katz.
"Our student body has simply outgrown our current facility," added Head of School Rabbi Jonathan Kroll. "It's not just that we are short on classroom space, we're also short on places to gather as a whole school, as a grade, or as a club. Our new facility will provide flexible indoor and outdoor spaces that can be used for many different learning experiences, programs and classes."
Katz Yeshiva High School's student body includes approximately 350 students, grades 9-12, from Miami-Dade, Broward and Palm Beach Counties. The school was founded in 1998 by Rabbi Kenneth Brander and Rabbi Perry Tirschwell with a shared mission to engage, challenge and inspire students to reach their intellectual, personal and spiritual growth. Head of School is Rabbi Jonathan Kroll; Executive Director is Mr. Shimmie Kaminetsky; and Principal is Mrs. Ora Lee Kanner. The school welcomes families of all backgrounds who share its goals of academic and spiritual growth for their children.
Specific attributes of the new Katz Yeshiva High School of South Florida facility include:
• 24 state-of-the-art classrooms, designated faculty workspaces, and cafeteria.
• New outdoor spaces on campus, including outdoor seating adjacent to the dining room, an outdoor terrace on the second floor, and outdoor basketball courts and soccer field.
• New state-of-the-art gymnasium. 22k square feet facility with two regulation size basketball courts along with a fitness center and weight room.
• Beit Midrash: a large, dedicated space for the entire school to gather to hear speakers, as well as daven and sing together during holidays and other special occasions.
• Bio & Physics Lab and Science Classrooms, including state of the art materials, lab tables and more.
• Rotunda/Student Lounge to allow for students to relax, study and socialize in a comfortable, spacious environment.
• Digital Library and TV Studio: new digital library and computer coding lab for growing technology needs. Allow students and staff to further develop movie editing, desktop publishing and engineering curriculum. Will include new fiber internet connection allowing for lightning-fast internet in classrooms and hallways.
• New and dedicated, professional Art Studio featuring natural lighting, exterior space and flex-space; video equipment; storage; and ample space to create.
According to the Katz Yeshiva High School of South Florida leadership team, benefits of being located on the Jewish Federation of South Palm Beach County's campus will also include: enhanced security; synergies and collaboration opportunities with all on-site departments; interaction with young men and women with special needs through the Jewish Association for Residential Care (JARC FL); and access to agencies, leaders and speakers on campus.
To learn more about the school and its new building, visit YeshivaHS.org.
Source :
Katz Yeshiva High School of South Florida