Toby & Leon Cooperman Sinai Residences Celebrates Opening of "Health Care Center" in Boca Raton
Health Center Features Short-Term Rehabilitation Care, Assisted Living, Memory Care and Skilled Nursing in a Luxury Environment; Toby & Leon Cooperman Also Recognized During Opening for their Recent $10 Million Gift and Naming of the Sinai Residence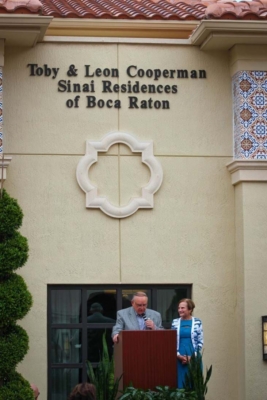 Press Release (ePRNews.com) - BOCA RATON, Fla. - May 01, 2017 - The Toby & Leon Cooperman Sinai Residences of Boca Raton, the community's newest and luxurious Life Plan (also called Continuing Care Retirement) Community, celebrated the opening of its 125,860-square-foot Health Care Center last week. Located on the campus of the Jewish Federation of South Palm Beach County, at 21044 95th Avenue South, the Health Care Center serves the non-profit Sinai Residences' independent living residents, and is open to the South Florida community at large. The Health Care Center also offers the first state-of-the-art skilled nursing center to open in Boca Raton in the last 20 years.
Access to the Health Care Center is open to all members of the South Florida community (not just Sinai Residences residents), which is increasingly important, as projections show that 24% of Florida's population could be age 65-plus by the year 2025. Additionally, at that time, seniors age 75+ will make up 9% of Florida's total population, according to Claritas, Inc., which compiles U.S. Census data as well as newly available American Community Survey data.
During the event, Toby & Leon Cooperman were also recognized for their $10 million gift to the Jewish Federation of South Palm Beach County. Sinai Residences was named in their honor a few months ago. Matt Levin, President and CEO, Jewish Federation of South Palm Beach County, and Anne Jacobson, Chair of the Federation Board, spoke during the Health Care Center opening event, as did Chris Newport, Executive Director of Sinai Residences, and Jay Mikosch, Associate Executive Director.
"Today we come together only a year after Sinai Residences first opened to celebrate our beautiful home's new name – Toby & Leon Cooperman Sinai Residences of Boca Raton – and to also mark the opening of our Health Care Center," said Newport. "This means we are now offering our full life care continuum of services, with the highest quality, state-of-the-art independent living, assisted living, memory care, rehabilitation, and skilled nursing care. As we celebrate the opening of the Health Care Center, our primary goal remains: to continue to make Sinai Residences the best place it can possibly be for our residents."
The Health Care Center is part of the $265 million, 650,000 square-foot Sinai Residences Life Plan community, built on the Federation campus. Sinai Residences features more than 350 beautiful, state-of-the-art residences, providing support for all stages of senior life, including 234 independent luxury apartments, and an onsite continuum of care at the Health Care Center with 60 Skilled Nursing private suites, 48 Assisted Living apartments, and 24 Memory Care private suites.
Sinai Residences guarantees independent living residents access to every level of care at a predictable monthly cost. Access to Health Care is also guaranteed to residents from the moment they move in, and for as long as they remain residents.
Joanne Martin and her husband are in their 80's and moved to Sinai Residences independent luxury apartments in February 2016. "We are in good health and wondered what lifetime care was before moving in," Martin said. "Once we were here, we realized everything we could ever need was right here. We never have to leave. The facility ages with us, but keeps us young at the same time."
Residents of the South Palm Beach County area are also welcome to take advantage of the Health Care Center's services, which include rehabilitative services, physical, occupational and speech therapies. At Sinai's Health Care Center, a highly skilled team of licensed therapists and nurses utilize state-of-the-art equipment and advanced research techniques to promote effective, quick healing and recovery following an illness, accident or surgery.
"We know from the Imagination 2014 Senior Living Research Study, that 98% of individuals considering a senior living community feel access to immediate health care services is important, so that was a priority when planning for this luxury community," said Mikosch. "The Health Care Center at Sinai Residences offers a range of health care services in a luxury environment."
Marvin Orenstein currently lives in independent living, but his wife resides in Memory Care, and has been there since the facility opened. "Before my wife moved to the Memory Care suites, I was taking care of her alone. I was shopping, cooking, cleaning and making sure she was comfortable. Now, she is taken care of, and I am free to enjoy life," Orenstein said.
Residents of the Health Center enjoy luxury services, including:
· One- and two-bedroom Assisted Living apartments
· All private suites in Skilled Nursing and Memory Support
· Licensed Nurse and Certified Nursing Assistants available 24 hours a day
· Personalized assistance as needed with bathing, dressing, dining and more
· Medication management
· Three chef-prepared gourmet meals served restaurant style daily
· Nutritious snacks and refreshments available daily
· Special dietary needs accommodated
· Variety of enjoyable activities and programs
· Physical-led care with coordinated team of licensed nurses and certified nursing assistants
· Physical, occupational and speech therapies available 7 days a week
· State-of-the-art equipment, including a Biodex Balance System™, SciFit® Recumbent Stepper and NuStep® Recumbent Cross trainer
· Sun room, art studio, library and game room
· Tranquil courtyard for relaxing outdoors
· Scheduled transportation to medical appointments and shopping
· Housekeeping and maintenance
· Spiritual support
· Full service salon
· Visitors welcome anytime
· Pet friendly environment
About Toby & Leon Cooperman Sinai Residences of Boca Raton
 http://www.sinairesidences.com/
Source :
Jewish Federation of S Palm Beach County