KONE – Elevators & Escalators Opens New Office in Vijayawada. Moves closer to the Customers!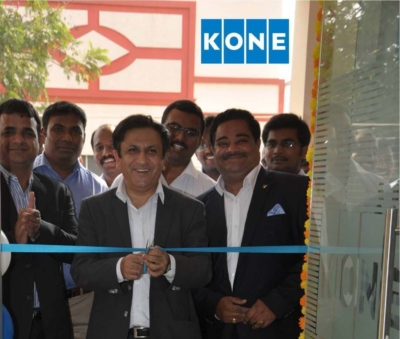 Press Release (ePRNews.com) - VIJAYAWADA, India - Nov 24, 2016 - KONE, a global leader in the Elevator and Escalator Industry, today announced the Opening of its New Office at Vijayawada, Andhra Pradesh. It was inaugurated by Mr. Amit Gossain, Managing Director, KONE India. This investment is to enhance the service level to both its existing Customer base and gear up for the approaching growth. The New Office will put KONE in close proximity to many of its Customers and at a central location in relation to other key Businesses and Commercial areas in and around Vijayawada.
"KONE India aims to bring its quality services closer to Customers. KONE takes Andhra Pradesh as a very important market and this inauguration is in accordance with our strategy to boost our Customer reach deeper in India. This new office will further build up as an important footmark for KONE in Southern India as part of its efforts to ensure a stronger customer connect pan India." says Mr. Amit Gossain, Managing Director, KONE Elevators India.
We understand the demands and the changing trends of urbanization, we believe that we have a great potential to add value to our customers and society at large. It would in turn make contribution to rising living standards, in the most sustainable ways.
About KONE
At KONE, our mission is to improve the flow of urban life. As a global leader in the elevator and escalator industry, KONE provides elevators, escalators and automatic building doors, as well as solutions for maintenance and modernization to add value to buildings throughout their life cycle. Through more effective People Flow®, we make people's journeys safe, convenient and reliable, in taller, smarter buildings. In 2015, KONE had annual net sales of EUR 8.6 billion, and at the end of the year close to 50,000 employees. KONE class B shares are listed on the Nasdaq Helsinki Ltd. in Finland.
About KONE in India
KONE's presence in India dates back to 1984 and today it is the leading elevator company in India. Based in Chennai, KONE India serves customers all over the country through its 40+ branches and provides sustainable People Flow™ solutions for India's rapidly growing cities. It employs about 4000 + people in the country.
KONE's production unit in Chennai produces elevators for the Indian market as well as for Bangladesh, Nepal and Sri Lanka. The production unit also manufactures components for modernization projects in other Asian-Pacific markets such as Australia, Korea, Singapore and Malaysia. Chennai also has a training centre where KONE's installation engineers and field mechanics are trained to meet KONE India's strong reputation for high quality and uncompromised safety, as well as the expectations of Indian customers, when installing and maintaining elevators and escalators. KONE's global technology and engineering centre is a testing and research hub, which supports the latest technology and development of future KONE solutions.
KONE contributes to sustainable urban development with eco-efficient solutions that offer energy savings in buildings and deliver the best user experience. KONE is a pioneer in developing Eco-efficient™ solutions. KONE along with the KCF (KONE Centennial Foundation) supports the social development of a local community in Chennai in collaboration with Rotary Club of Madras.
Source :
KONE INDIA