Mala Yachts is Providing Luxury Yachts Charters and Boats in Dubai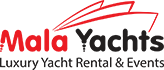 Press Release (ePRNews.com) - Dubai, UAE - Aug 09, 2017 - Mala Yachts is a client focused yacht rental company experienced in luxury services in Dubai. First class services on beautiful modern boats make them unrivalled for the ultimate trip in the Arabian Sea. They have an experienced team driven by professionalism, passion, and discretion to lead any expedition and ensure utmost satisfaction. Mala Yachts services are budget friendly, unmatched and tailored to meet the client's demands while maintaining their luxury signature.
Describing their customer oriented services, the Tours Manager said, "Dubai is a top global spot for vacations and business given its strategic location and sheer beauty. A trip to this magnificent city is not complete without a yacht expedition to the Arabian Sea. Whether you want a lazy, relaxed weekend, a trip with your business associates, a get together with friends or an adrenaline rushing adventure we are your prime choice. A variety of yachts to choose from, incredible onboard facilities, sumptuous meals and unrivalled freedom you can't go wrong with us."
Recreational fishing is increasingly becoming a top spot for both locals and visitors in Dubai. Mala Yachts is the travel solution for any fishing activity in the Dubai region. Using constant weather updates, they advise clients on the best time for fishing in Dubai and provide shipping equipment for the best fishing experience. Using Knowledge of top fishing locations and a crew with useful fishing tips they make the trip unforgettable. Mala Yachts also provide deep sea fishing for the more daring and relaxed clients who want to have a massive catch while enjoying the soothing waves and sea breeze. Catches to expect include tuna, kingfish, barracuda, sailfish, and grouper among other breeds.
Talking about their wedding charters, the Company Director said, "If you are looking for a wedding planner in Dubai our services will make your special day outstanding. What is better than having your wedding in the middle of a calm, deep blue sea surrounded by your loved ones? We understand the logistics of weddings and have an internal capacity to deliver conveniently regardless of your specifications. Everything from the décor, meals, location, and arrangement is tailored to your theme and taste. Our team works around the clock to ensure perfection, uniqueness, and luxury for your friends and families invited."
Clients can book yacht for rent in Dubai through Mala Yachts website. Several luxury yachts of different sizes are available for rent to suit a vacation or event celebrations. Some of their yachts include the Mona Lisa, desert rose, lotus mega, Vasco de Gama, majesty emerald, al khan and al wasmi yacht. With sizes from a 33-foot cruiser to a massive 220-foot yacht their variety suits any preference. Mala Yachts combines elegance with the delights of life to give five-star services to all guests on board depending on the yacht chosen,

About Mala Yachts
Mala Yachts is a five class rated luxury yacht rental and Expedition Company located in Dubai. With a range of well-maintained fleet of yachts and a professional crew unrivalled personal services is their guarantee.
Source :
Mala Yachts